The challenges for Fortnite Season 9, Week 8 are live. Here are all of the challenges.
We're already into week 8 of Fortnite Season 9 and the new challenges have been unlocked and are available to complete. The majority of the challenges this week are the standard challenges we've seen Epic release time and time again.
Fortbyte challenges seemingly took priority for Epic, with a new challenge being released each day requiring plays to hunt for the Fortbyte. The weekly challenges have clearly been affected by the Fortbyte challenges, with the majority of challenges being reused from previous seasons.
Here's the Fortnite Season 9, Week 8 challenges:
FREE CHALLENGES
Apply shields (400)
Eliminate opponents in Snobby Shores or Mega Mall (7)
BATTLE PASS CHALLENGES
Deal damage to opponents with Assault Rifles (500)
Staged Challenge: Land at …

Stage 1: Land at Paradise Palms (1)
Stage 2: Land at Neo Tilted (1)
Stage 3: Land at Mega Mall (1)
Stage 4: Land at Pleasant Park (1)
Stage 5: Land at Junk Junction (1)

Use a volcano vent, air vent, and a zipline in a single match (1)
Eliminations outside of named locations (5)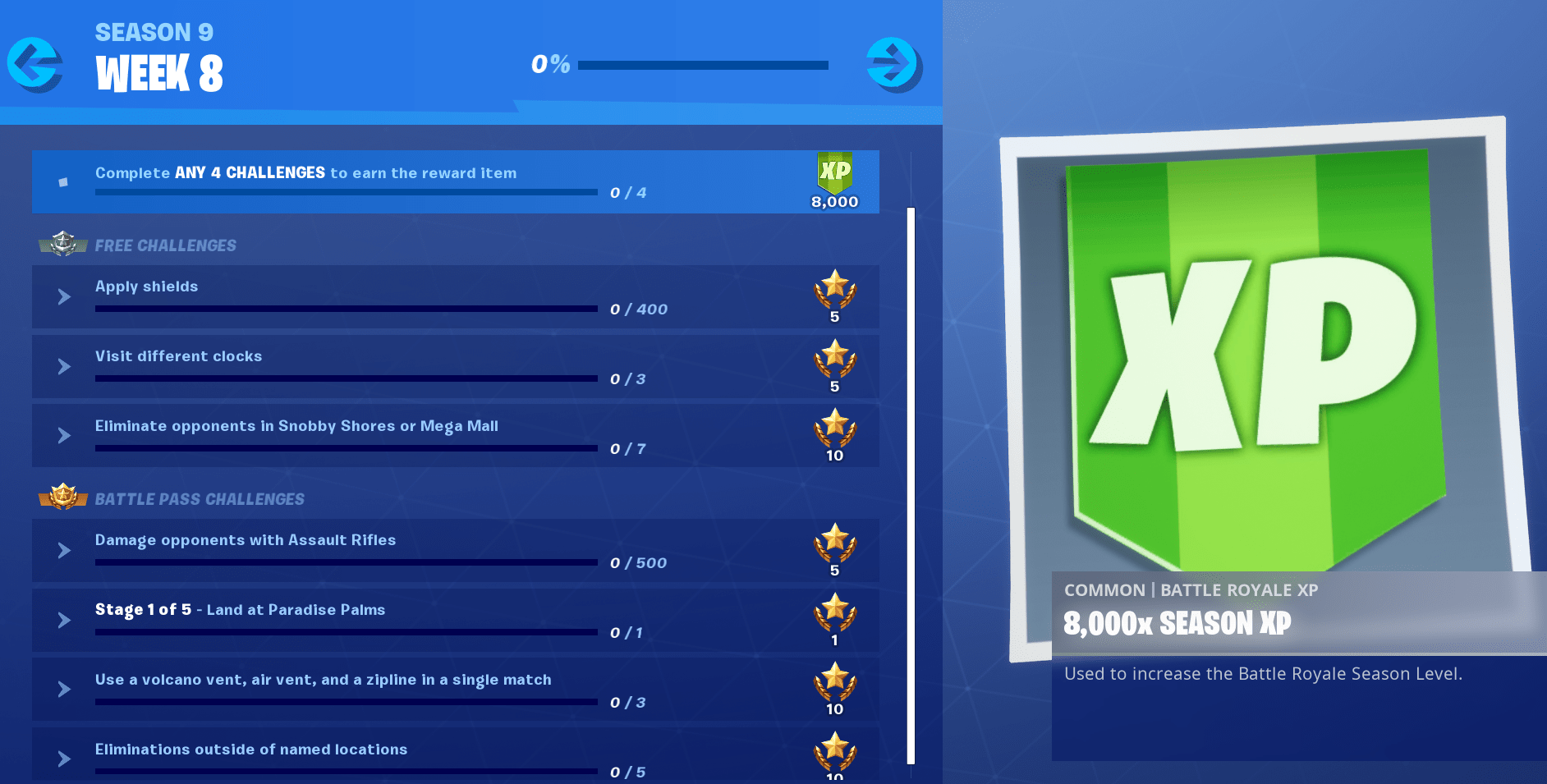 As we're in week 8, completing any 4 of the 7 challenges will grant players 8,000 season XP.
There's no hidden Battle Star this week and Epic removed the banners at the start of the season. However, there'll be a Fortbyte challenge to collect with the loading screen providing the location. As always, we'll be covering the Fortbyte challenge.