The Fortnite server status isn't looking good. Servers are down for many players half an hour before the Star Wars event with players getting login failed issues.
The Fortnite Star Wars: The Rise of Skywalker event is set to start in just under half an hour. As expected, the Fortnite servers are facing some issues due to the large volume of players looking to experience the live event.
UPDATE: Event has concluded. View the Fortnite Star Wars Challenges CLICK HERE
Fortnite Server Status – servers down
Minute by minute Fortnite Server status updated at the bottom of the article. Keep refreshing for the latest updates on Xbox Live and PlayStation Network.
Fortnite login failed issues & errors
Can't login to Fortnite? You're not alone. The Fortnite servers are currently down and players are unable to login. Players are receiving error messages such as "sorry you are visiting our service too frequent".
Other errors include "unable to sign into your account for Xbox Live", and "unable to sign into your account for PlayStation Network", and "502 bad gateway".
Players are unable to log in on PS4, Xbox One, and PC at the moment, and Epic are aware of the issues that are going on.
The official Epic Games website recently tweeted acknowledging the fact that there are issues with the Epic Games launcher. They have stated that they are looking into log in and purchase issues, and will provide an update when they have more information.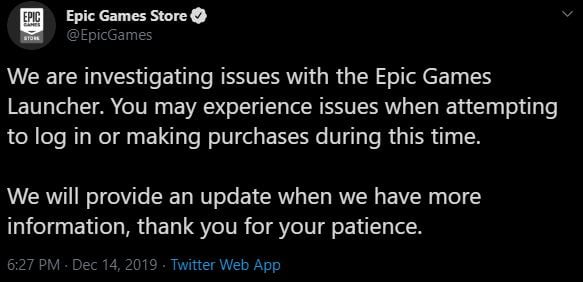 The Fortnite Status Twitter account has also tweeted the same tweet as seen above.
Epic have done all they can in order to keep the Fortnite servers stable in order to allow every player to watch the Fortnite Star Wars event. Playground, Creative, and custom matches were disabled hours in advance and according to leakers, the anti-cheat system has been disabled to reduce the server load.
We will provide updates on the Fortnite server status as soon as we can.
Fortnite Xbox Live and PlayStation Network Status
Fortnite Down Detector
Fortnite Xbox Live: ONLINE
Fortnite PlayStation Network: ONLINE
Epic Games Launcher: Down
Updated at 19:33 GMT