Players are wondering if the Fortnite servers are down on February 1st, 2022 and if so, why. Here's the current Fortnite server status.
We're approaching the ninth week of Fortnite chapter 3 season 1, and we've only had one major patch update so far. We have had a few hotfix content updates, which has seen the introduction of weather effects, new items, and more.
However, the first major patch update two weeks ago, 19.10, included the new Klombo dinosaur, Tilted Towers, and the flare gun returning from the vault yet again.
Epic Games announced the 19.20 Fortnite update yesterday with scheduled Fortnite server maintenance taking place at 4 AM ET. The servers are usually down for a couple of hours for each major patch update.
Players are wondering if the Fortnite servers are still down on February 1, 2022 and what the current status is. Here's everything you need to know.
Fortnite Servers Down Today Feb 1 2022
The Fortnite servers ARE currently down today on February 1, 2022. They were originally down for scheduled maintenance in order to prepare for the release of today's major patch update.
The servers were then back only for less than fifteen minutes before players were reporting login issues and being stuck in a queue. Epic Games then tweets on the official Fortnite status account to state that the game is going back into server downtime due to an issue.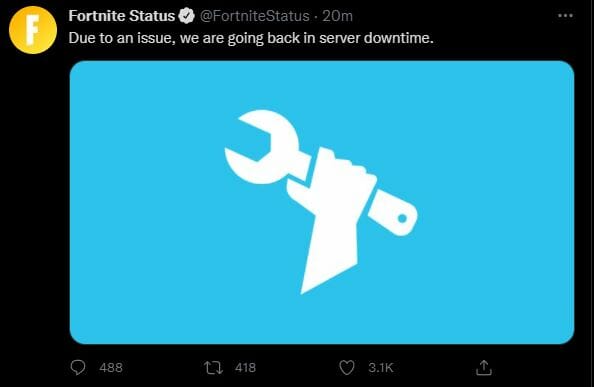 Server Status
We will continue to monitor the Fortnite server status and will update you when the servers are back online. We're not sure how long they'll be down for as we're not aware of how big the issue is that's forced Epic to go back into downtime.
Update: The servers are down once again and Epic Games are investigating the issue.
Update 2: Epic have turned the Fortnite servers offline to fix whatever issue they're currently having.
Any updates will be posted here. In the meantime, check out the patch notes or take the quiz below to test your Fortnite knowledge.
[wp_quiz_pro id="87009″]