Here's the release date for the Uncharted Fortnite skins.
We're a month out from the new season of Fortnite, but the collaborations keep on rolling in. We currently have the NBA 75 All-Star collaboration with item shop skins and a creative hub with a challenge and reward, and we're getting more collaborations.
John Cena teased a Peacemaker x Fortnite collaboration, and we'd expect it to go live in-game before the end of chapter 3 season 1. In the meantime, we have the Uncharted Fortnite collaboration.
Epic Games had a little an interactive teaser that allowed players to reveal the next collaboration, but data-miners had already leaked it. It's been a few days since the Uncharted collaboration was release, and players are wondering what the release date is.
Uncharted Fortnite Skins Release Date
The Fortnite Uncharted skins will release when the shop reset on February 17th, 2022 in America. That means if you're in the UK for example, it'll be at 12 AM on February 18th, 2022.
There's two different styles for the collaboration. We'll be getting the Nathan Drake and Chloe Frazer outfits, but there's a style for the game and one for the movie. That means Tom Holland will have two skins in Fortnite.
If you haven't already seen what the outfits will look like, we've included an image below: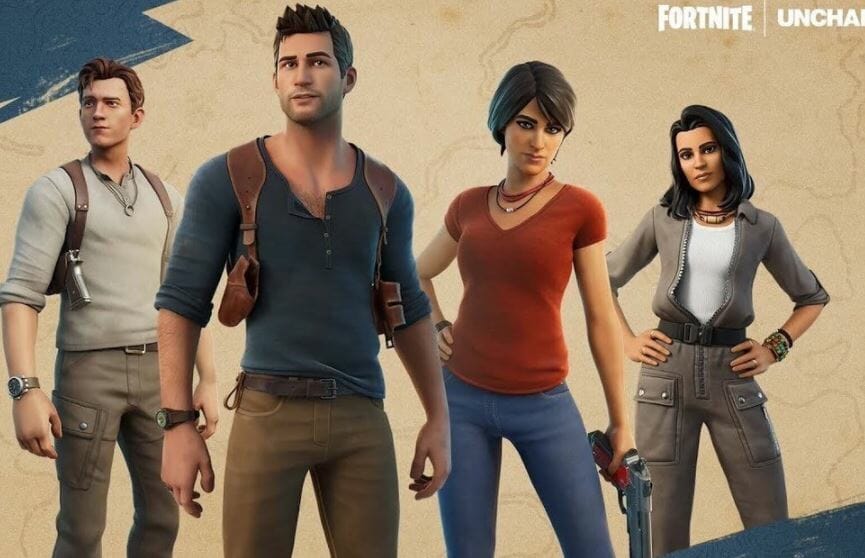 We have no idea the price of the outfits, but we're guessing there will be a bundle available, which will allow players to save some V-Bucks if they want all the of cosmetics. It's also likely each variation of the outfits will be available individually.
We'll need to wait and see the price when they hit the shop shortly. We're also expecting Drake's treasure map item in the game, but it's likely we'll need to wait until Tuesday for the release.