There's a new maintenance patch update today 3.44 (January 24 2022) for Fortnite that has been released on PS4, PS5, and Xbox consoles. Here's what's new.
19.20 Fortnite Update early patch notes HERE
We had our first major Fortnite update of the new year last week on Tuesday with the release of the v19.10 update. The Klombo dinosaurs were added, which have gone down extremely well with the player base. Tilted Towers also returned, we had the klomberries added along with the return of the grenade launcher.
We then had a maintenance patch, which was first pushed out to PS4, PS5, Xbox Series X|S and then later on Nintendo Switch and PC. The update didn't add any new content, but it addressed stability issues along with fixing the colorblind options not saving in settings.
We now have a brand new Fortnite update today (24th January 2022) and here are the full patch notes.
What's new in Fortnite Update 3.44 January 24 2022
As expected, there is no new content in today's new Fortnite update. The update addresses a small problem with the Support-A-Creator UI that's missing from the pre-game lobby of the creative islands.
The update has only been pushed on Xbox and PlayStation consoles as of writing. However, Epic Games have stated that they will let players know when it's been pushed out and available on the Nintendo Switch.
Here's the official tweet on the Fortnite Status Twitter account: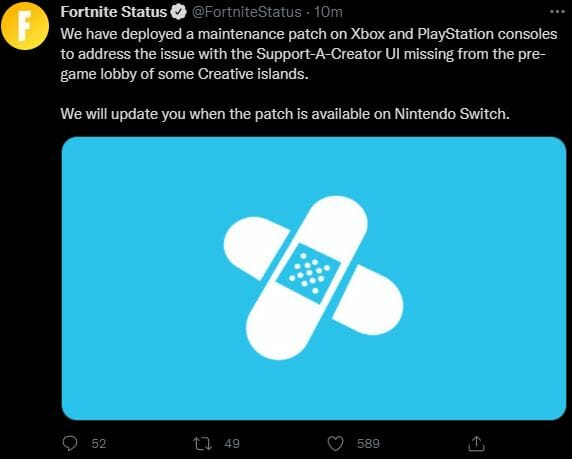 Other changes include minor bug fixes, stability issues being addressed, and performance improvements.
We should have a content hotfix update release tomorrow, which will introduce the pizza that'll heal shield. We should know more about the hotfix tomorrow once it's released with the official patch notes releasing at some pint around 10 AM ET / 3 PM GMT.
Whilst your here, why not test your Fortnite knowledge by taking the quiz below!
[wp_quiz_pro id="87009″]