The Green Goblin Fortnite skin has been leaked by data-miners.
Today saw the release of the first major Fortnite update of the year. Before the new reason, we had a few hotfix updates, which included the release of the Shield Keg and two different weather conditions, thunder and lightening.
As with all major patch updates, there were a number of leaks from the new files. Audio files suggest that the devourer monster will be making a return at some point during the season with the likely location of his return at the new "The Devoured" landmark location located near Tilted Towers.
We had a few skins that were leaked from the files including an Arcane League of Legends skin, which will likely be available at some point within the next couple of weeks.
There were a few encrypted skins including a Hawkeye x Fortnite collaboration, which includes the Clint Barton and Kate Bishop skins. Although the two skins were encrypted, data-miners managed to leak it and we now have a new skin leak.
Fortnite Green Goblin Skin
At the start of chapter 3 season 1, Epic Games stated that friends and foes of Spider-Man will be dropping into the item shop throughout the season. With the release of the Winterfest Christmas event, the No Way Home Spider-Man skin was released along with an MJ skin.
Data-miners have now leaked the Green Goblin skin, which was also encrypted in today's 19.10 files. A loading screen has been leaked along with images of the Green Goblin Fortnite skin in the lobby.
Here's a look at the loading screen with the Fortnite Green Goblin skin: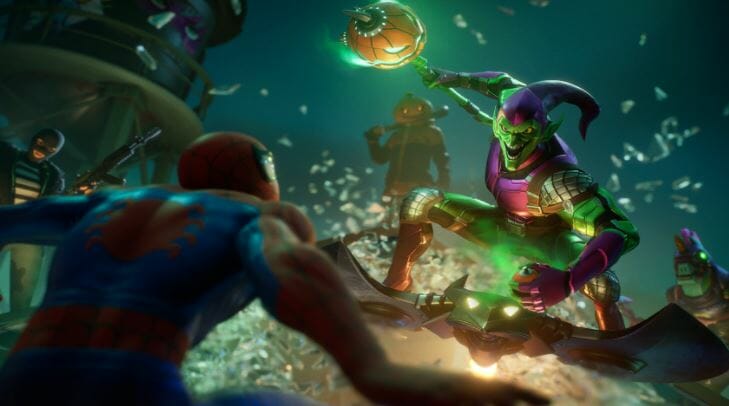 Here's a look at what Green Goblin will look like in Fortnite with data-miners managing to get the ID of the encrypted outfit and using it to get it in the lobby to display.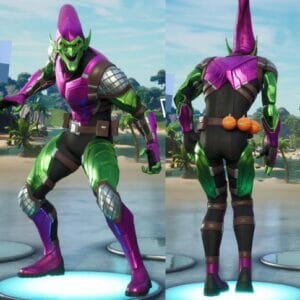 All of the cosmetics in the Green Goblin Fortnite set have now been leaked. Here's a lost of every single cosmetic along with an image for each:
Green Goblin Outfit
Pumpkin Bomb Back Bling
Goblin Glider
Pumpkin P'Axe Pickaxe
Arm the Pumkin! Emote
Attack of the Goblin Loading Screen
Release Date
As with all leaks, there's no information regarding when a skin will release. We'll only know a few hours before when the shop titles are released. There's also a chance Epic Games release a blog post on the collaboration, which will likely announce a release date for the skin.