Here's the current Fortnite server status on March 1st, 2022.
We're three weeks away from the second season in the third chapter. Chapter 3 season 1 launched at the start of December with a new map, new mechanics including sliding, and we had a new loot pool.
During the season, we've had three major patch updates along with several content updates, one of which was the Winterfest Christmas event, which provided players with fourteen free cosmetics including two skins.
Epic Games announced that the final update of chapter 3 season 1, 19.40, will be releasing today. As usual, they announced when the Fortnite servers will go down for maintenance along with when matchmaking will be disabled.
Is Fortnite Down Right Now? March 1st, 2022
As announced on the Fortnite Status Twitter account, the Fortnite servers have been scheduled to go down today, March 1st, 2022, at 4 AM ET / 9 AM GMT. Matchmaking was disabled at 3:30 AM ET.
The Fortnite servers ARE currently down right now. As with all updates, Epic never state when the servers will be back up. However, for previous updates, the servers are usually back online an hour and a half after they were scheduled to go down for scheduled maintenance.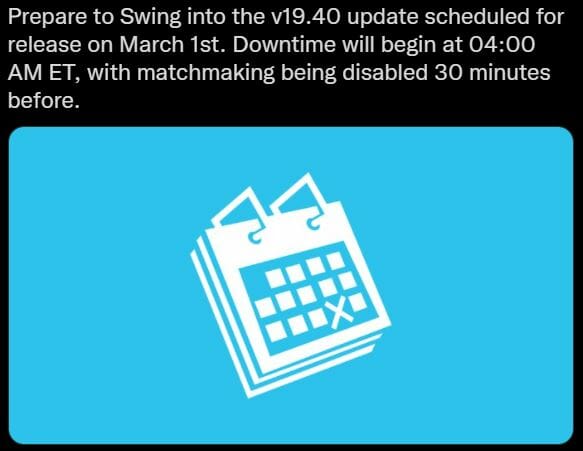 It's likely they'll be back up at roughly 5:30 AM ET / 10:30 AM GMT.
Fortnite Servers Status
As mentioned above, the servers are currently down. However, we'll update this section as soon as they're back online. We'll also provide you with the file size of the 19.40 patch update as soon as the patch is pushed to each platform.
While you're waiting for the servers to come back online, why not take the quiz below to test your knowledge of Fortnite? UPDATE: 19.40 skins leaked CLICK HERE to view
Which of these POIs is NOT on the Chapter 3 map?
Which one of these is not a new weapon this season
What's the name of this seasons Starter Pack
When Did Chapter 3 Season 1 Launch?
In the official Fortnite Chapter 3 Character trailer, who if the first character shown?
On what page of the Chapter 3 Battle Pass will you find the Lunar Charge Emote?
What is the name of the additional Skin for Chapter 3, that is not yet released?
Which one of these is NOT a landmark in Chapter 3?
When were the Spider-Man Mythic Web Shooters added to the game?
What is the name for Chapter 3?
How many V- Bucks can you earn if you unlock all of the rewards from this seasons Battle Pass?
There are seven new Battle Pass skins not including the secret skin. Which of these is not the name of a Battle Pass skin?
Where is The Sevens hidden home on the map?
What's the code name for the new map?
How many Loading Screens are there in this seasons Battle Pass?
When is this season (chapter 3 season 1) scheduled to end?
What is the rarity of the Wooly Mammoth Glider?
Which of these features were added in Chapter 3 of Fortnite?
A new item, Guzzle Juice, was added this season. What does it do?
When did the Chapter 2 finale event take place?
Fortnite C3:S1 Quiz
You're FlyTrap! Better luck next time!
You're Grimbles! Sucks to be you
You're Shadow Midas! Congrats!
You're Spider-Man and a sweaty FN player!