Epic Games have posted a teaser that points towards a Mistborn Fortnite collaboration.
We've had a number of collaborations since Fortnite gained popularity. Most recently, Epic Games have teamed up with DC for the Zero Point comic book along with DC skins including the most recent Beast Boy Teen Titans skin.
We've also seen Epic Games collaborate with DC for Crew Packs. Green Arrow was the second crew pack that was released although fans weren't happy with Epic using the crew pack for even more collaborations.
Before a new crew pack releases, Epic Games usually post teaser images on social media along a few days before it's officially released. Epic have now posted a new teaser, but there's a chance it's not for the new crew skin.
Mistborn x Fortnite Collaboration – Kelsier Skin
Epic Games posted an image on Twitter with the following quote, "You're the one they call the survivor; those scars on your arms give you away. You're a troublemaker". Here's the image that was posted: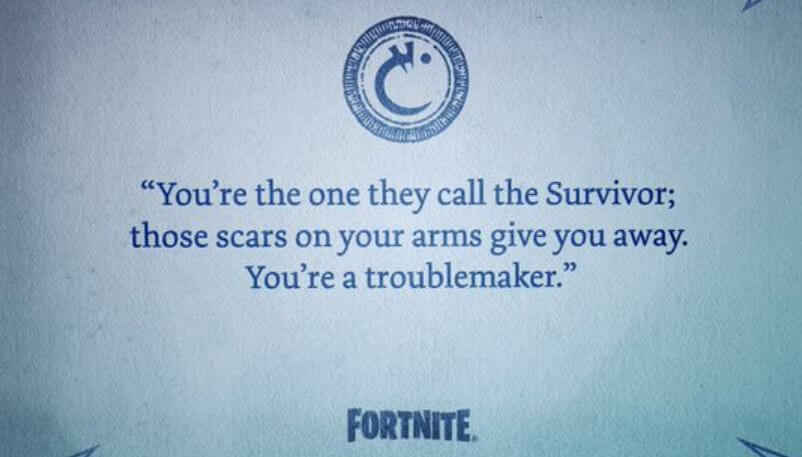 Update: The Fortnite June Crew Pack revealed
Players noticed that there is no crew symbol on the teaser image which seems to suggest this collaboration won't be for the next Fortnite crew pack for next month which will officially be revealed tomorrow at 10 AM ET. However, it seems unlikely Epic would put a teaser out a day before the June Fortnite crew skin gets revealed.
The symbol at the top of the teaser is from the Mistborn Novel Series which means "Iron". Brandon Sanderson, an American author that writes the Mistborn series all but confirmed the Fortnite x Mistborn collaboration in a tweet below:
According to Twitter users, the quote in the teaser is from a character in Mistborn that's directed towards Kelsier. That suggests Kelsier is the Fortnite June Crew Pack skin which will be revealed tomorrow. Here's what Kelsier looks like: