Dataminers have leaked what the building will look like in Tilted Town, which will be replacing Neo Tilted in the near future.
Season X was launched on Thursday and dataminers leaked a number of files including upcoming cosmetics and challenges, a Fortnite Item Shop item voting system and more. In the Season X overview view, Epic stated "the world you play today may not be the world you play tomorrow".
Dataminers leaked that there will be several old POIs coming back in some form including Moisty Mire and Lazy Links. Dataminers also leaked that NEO Tilted will be changed into Tilted Town, a wild west themed POI.
Dataminers previously leaked the meshes of what the buildings will look like, but now they've managed to leak exactly what the buildings will look like when Neo Tilted is changed into Tilted Town. Here's some images of the Tilted Tower buildings thanks to dataminer XTigerHyperX:
Tilted Town Buildings
Garage/Stable
Commercial building
Taco Shop
Apartment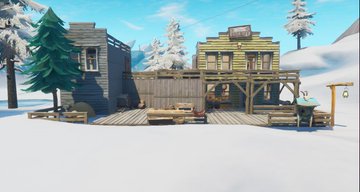 Shop
The locations of the buildings are not correct. The buildings in the images above are simply to see what the buildings look like.
A Beacon Rift was recently activated in Neo Tilted, which has created a rift in the sky that appears to be expanding rather quickly. It's likely that this ties in with Neo Tilted being changed into Tilted Town.
Here's what the layout of Tilted Town looks like thanks to FNLeaksAndInfo:
In the Season X overview video, you can see Y0ND3R change into the Deadfire outfit upon entering what appears to be Tilted Town. This suggests that everyone that enter Tilted Town will change into the deadfire skin. There was also a no building sign that was shown, so it's possible you won't be able to build whilst in Tilted Town.
We'll keep you updated with the latest developements regarding Neo Tilted and Tilted Town. It's likely the location swap/change will happen in the next update, which will drop at some point this week. The update is likely to be a content update that'll require no downtime or having to download new files.
What are you thoughts on the buildings leaked by dataminers? Would you prefer that Neo Tilted remains, or are you excited by the preview we have of Tilted Town? Let us know in the comments section below.