Here's everything we know about the Merry Mint Axe Pickaxe Codes (minty codes) including how to get it, where to redeem the code, the official release date, and where to get a code.
The Fortnite Merry Mint pickaxe (axe) codes, or as some people call it 'Minty codes' has been the topic of the day for the past few days. Fortnite leakers have been giving away free codes on social media for the past fews days and players have been going crazy to get their hands on them. It's a Christmas-themed pickaxe, so it makes sense Epic have released them after Halloween, although players have been getting their hands on them for more than a week.
The Fortnite Merry Mint pickaxe codes are very rare, thus making the axe itself rare. Rare Fortnite cosmetics mean everything to players these days, so there's no surprise people are going crazy for these codes to officially release. Here's everything we know about the Merry Mint Axe codes.
Fortnite Merry Mint Pickaxe Codes
Release Date
It's been confirmed that the Fortnite Merry Mint pickaxe codes will officially be available on Wednesday, 6th November. There's a limited amount of codes, so try to get your hands on one as soon as you can or else you'll be left disappointed.
How To Get a code
In order to get a Merry Mint Axe Pickaxe code, you'll need to head over to Gamestop in the US or Game in the UK. You'll need to purchase any officially licensed Fortnite gear. Remember, you'll need to try get to a store as soon as you can as stock is limited.
Gamestop US
We know for a fact that you'll be able to a code in the US from Gamestop stores. However, Gamestop is available in a number of different countries. If you have a Gamestop nearby in your country, be sure to call or check if they are participating in the promotion. We'll keep updating this article as we find out availability information for Germany, France, Netherlands and other countries.
It looks like Gamestop offer a Love Ranger keychain for just $3.97 which is likely the cheapest way you can get a code.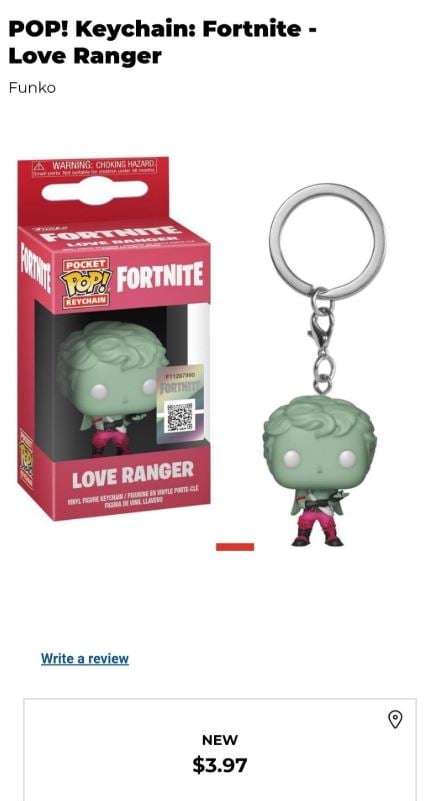 Game UK
If you're in the UK, fear not. Game will be offering codes if you purchase any officially licensed gear. Like Gamestop, you can get a Fortnite Love Ranger pop keychain which costs £2.99, but prices may differ in Game stores.

Where to Redeem Your Code
If you managed to get your hands on a code, head over to the Epic Games Fortnite redeem page that you'll find here. Log in to your account and put the code in the input box. Login to your Fortnite account and claim your Merry Mint Pickaxe.
The Fortnite Darkfire Bundle releases tomorrow, so you also have the option to purchase the bundle and still get a code, but you will need to purchase the bundle in store.