Epic Games have released a new maintenance Fortnite update today.
Update: latest Fortnite update v2.84 September 1st info here
We're into the last 7 days of Fortnite season 3 with season 4 scheduled to release next week, Thursday 27th August. We've had a few major patch updates this season along with a number of stability and maintenance updates, more so than we usually expect.
There's a new Fortnite update today just for the PS4 which clocks in at 1.279 GB. Epic have also released a similar patch to Nintendo Switch and PC over the past couple of days.
Fortnite Patch Notes
As mentioned above, this was only a maintenance patch update for the PlayStation 4 today, but that's not a bad thing.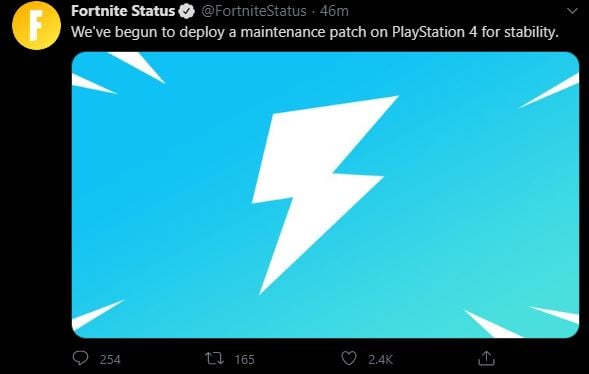 We had a season ending Fortnite event last season after not getting one for the first season of chapter 2. We had at least one event per season from season 4 onward, so we can expect another one before next Thursday.
Data-miners have leaked a few files for the upcoming event, but Epic Games have encrypted the vast majority of them, preventing data-miners from leaking them. This maintenance update along with the previously released updates on the other platforms could mean more players get to experience the upcoming event.
Last seasons live event was extremely limited in regards to how many people were able to login and experience it. In fact, it appeared as though there were less players able to view this event in comparison to all the previous events. Hopefully these updates will allow more players to login and experience the event.
As you'd expect, there's no leaks from today's new Fortnite update, but there are a number of leaked Fortnite skins that are yet to make their way into the item shop. You can take a look at those skins over here.