Epic Games have announced v17.00, aka the Fortnite chapter 2 season 7 update.
New fortnite update today v17.10
We're less than 24 hours away from the launch of Fortnite chapter 2 season 7. We've had all three teaser images released on social media and each teaser comes with three different captions with descriptions of each item in the teaser.
The teasers have already confirmed at least two major collaborations. A Superman Fortnite skin is all but confirmed and today, a Rick and Morty x Fortnite collaboration has been confirmed. The butter robot was featured in teaser 3 and the official Rick & Morty Twitter account retweeted the teaser.
Epic Games have announced the Fortnite server downtime for the new Fortnite update today, v17.00, aka Fortnite season 7. Here's everything you need to know.
17.00 Fortnite Update Sever Downtime & Status
In a tweet on the official Fortnite Status Twitter account, Epic Games announced that the Fortnite servers will go down at 2 AM ET (6 AM UTC). We don't know when the Fortnite servers will be back up from scheduled maintenance for the 17.00 Fortnite season 7 update, but we'd assume downtime will last for at least two hours.
As with the launch of all new seasons of Fortnite, the patch download size for the v17.00 Fortnite update will be larger than the normal bi-weekly updates on all platforms including PC, PS4|5 and Xbox. We'll have the official download file size when it's available. Here's the tweet from the Fortnite Status account:
Early Patch Notes
Obviously with a new season we can expect a new battle pass, map changes, weapons being added and removed, new NPCs and more. However, Epic Games have provided us with a couple of Fortnite patch notes for the new v17.00 Fortnite update.
In a reply to the tweet above, the Fortnite Status account sates that they're adding an ability to cancel your shakedown of an opponent. Furthermore, hitting reload or the same button you used to pick the opponent up will drop them mid-shake.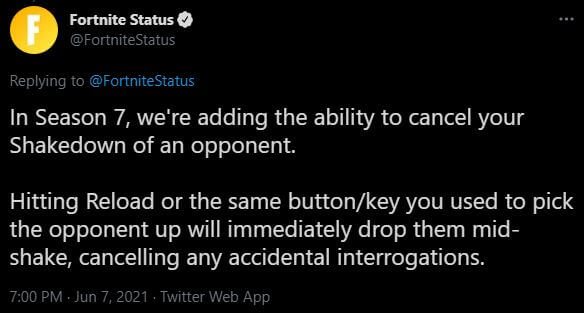 Apart from that, we don't have anything else, but we'll be posting out own unofficial Fortnite patch notes as soon as we can as we know Epic Games won't be posting any official Fortnite patch notes for the new Fortnite update.
Fortnite Leaks
As with all major new Fortnite updates, Epic Games will be adding a bunch of new content to the files. Expect to see challenges being leaked along with upcoming cosmetics, new weapons, and more. We'll likely see new weapons and map changes leaked before the Fortnite servers are back up from scheduled maintenance.
Be sure to check back here at Fortnite Insider for all the Fortnite chapter 2 season 7 leaks, news, guides, and more. Alternatively, turn on website notifications so you're alerted as soon as a new post goes live on the website!