Here's Everything you need to know about the New Fortnite update which is v14.00. (27th August).
We've had 10 weeks of Fortnite season 3 and Epic Games are releasing a brand new season without an extension to the current season. Fortnite season 4 launches with a brand new battle pass, map changes, and much more.
In the lead up to the new Fortnite update, Epic released a new teaser and two pages of the Fortnite comic book. After the tenth page, it says to be continues in Fortnite season 4. We're not sure if Epic will continue to add new pages next season, or they mean the trailer will fill in the rest of the comic book.
In any case, pages 9 and 10 of the comic book teased what Fortnite skins we can expect in the season 4 battle pass.  Here's everything you nee to know about tomorrow's Fortnite update.
New Fortnite Battle Pass
As you'd expect from a new Fortnite season, there'll be a brand new battle pass for season 4. As teased by the teasers and comic book, all of the battle pass skins in the new season will be Marvel-themed.
Expect Wolverine, Iron Man, She-Hulk, Groot and other skins to be available in the battle pass. Once the official images and information is released regarding the new season including the battle pass, we'll update this article. In the meantime, you can check out our article dedicated to breaking down the season 4 battle pass.
Fortnite Patch Notes
Epic have moved away from releasing official Fortnite patch notes for some time now, so don't expect any official patch notes to be released after the new Fortnite update. However, they should release a blog post highlighting the new features for the new season along with a Battle Pass overview video that will show off the new features in season 4.
We'll personally be diving deep into the v14.00 update and list all of the new features, changes, and new map locations. As already mentioned, we know the season is Marvel-themed, but it'll be interesting to see if Epic continue with mythic items. If they do, expect Marvel mythic items available for players to use.
Fortnite Server Downtime, scheduled maintenance, status update, and when the servers will be back up
Fortnite update times have varied since the launch of Fortnite Chapter 2. Epic tested out releasing updates at 6 AM UTC (1 AM ET), but reverted back to releasing updates at 8 AM UTC.
Epic Games have tweeted on the Fortnite Status account that the Fortnite servers will go down at 6 AM UTC. Here's the tweet below: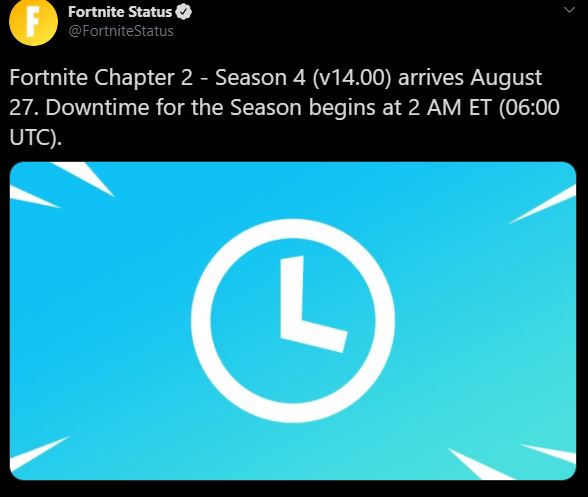 Take a quiz whilst you wait:
[quize]
The Fortnite server scheduled maintenance will last longer than normal updates. You can expect status updates from us on this page every 10 minutes, so check back to see when the servers are back up. It's likely they'll be down for at least 2 hours. We've seen in the past that with new season launches that Epic sometimes have more than 3 hours of server downtime.
How big is the v14.00 update (PS4, Xbox One, and PC?)
As soon as the servers are down, it doesn't take long for Epic to push the update out. We'll update this with the file size of the v14.00 season 4 update for all available platforms including ps4, pc, and xbox one.
Fortnite Leaks
In every major Fortnite update, Epic add a number of new files which data-miners then look through and leak everything new they can find. In the v14.00 update, you can expect challenges, Fortnite skins, upcoming features, and much more to be leaked.
If you'd like to keep up to date with all of the Fortnite leaks from season 4, be sure to turn on website notifications and head to the homepage to check out all of our coverage on the new season.
[quize]