Epic are constantly adding new items to Fortnite to make it more exciting and change the gameplay. We've seen Epic focus on weapons more as of late with new shotguns, SMGs and Snipers being released and it looks like a new Assault Rifle will be coming to Fortnite as Epic have updated the Fortnite in-game news feed to show that a Suppressed Assault Rifle is coming soon to Fortnite Battle Royale: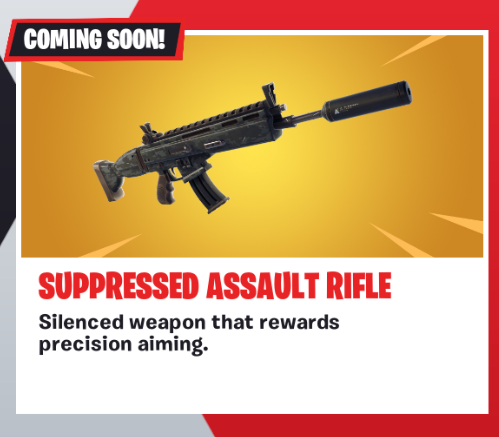 The description reads "Silenced weapon that rewards precision aiming."
We should be seeing this weapon added in the next v5.4 content update, which will most likely be tomorrow, but it has not been announced official by Epic as to when the update will take place. As is it a Content Update, there should not be any downtime but players will need to update the game before launching.
We will keep you updated with any new information.
Custom Bindings & Edit Mode Improvements For Controller Coming Soon to Fortnite