During Season 6, Epic have updated the game files on a weekly basis, updating the challenges a couple of days before they are unlocked on Thursday at 1PM UTC. The Hunting Party loading screens have also been added one at a time every week. Last week however, Epic added the Hunting Party loading screens for week 8 and week 9 together, and the challenges for those weeks were also updated. It looks as though there won't be an update this week that'll change the game files, so the challenges in files right now for Week 9 are more than likely correct, as the week 8 leaked challenges were correct. Here is the leaked challenges for Season 6, Week 9: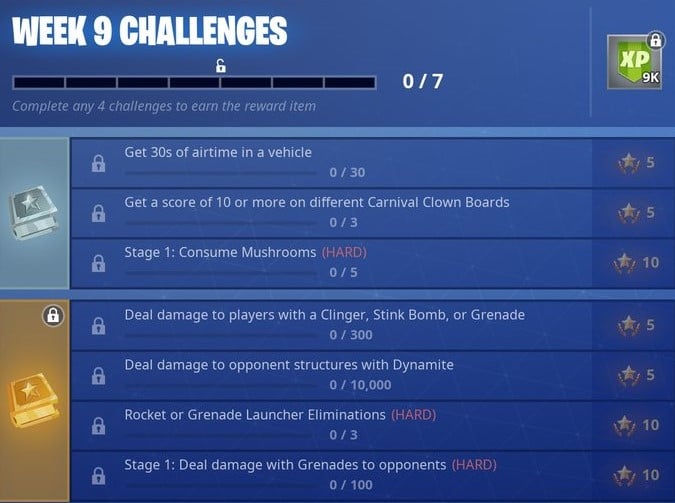 Free Pass Challenges
Get 30s of airtime in a vehicle (30)
Get a score of 10 or more on different Carnival Clown Boards (3)
Stage 1: Consume Mushrooms (5)(HARD)
Battle Pass Challenges
Deal damage to players with a Clinger, Stink Bomb or Grenade (300)
Deal damage to opponent structures with Dynamite (10,000)
Rocket or Grenade Launcher Eliminations (3)(HARD)
Stage 1: Deal damage with Grenades to opponents (100)(HARD)
Completing all of the week 9 challenges will grant players 9,000 Season XP. As we've seen with challenges in the previous weeks in Season 6, a few of these challenges have been in previous seasons. However, there are a few new challenges to complete in Week 9, with one of the recently added items included in one of the Battle Pass challenges.
The Dynamite item was added into Fortnite yesterday in the v6.30 content update. The item was disabled within an hour of being released due to issues with client crashes. Epic did tweet out that the dynamite has been re-enabled. The player base weren't happy when they got their hands on the item upon release, with the dynamite being able to easily take out structures with ease, similar to when the remote explosives were buffed. One of the challenges in Week 9 is to deal 10,000 damage to opponent structures, so you'll be seeing a lot of players trying to get their hands on dynamite and use them in build fights.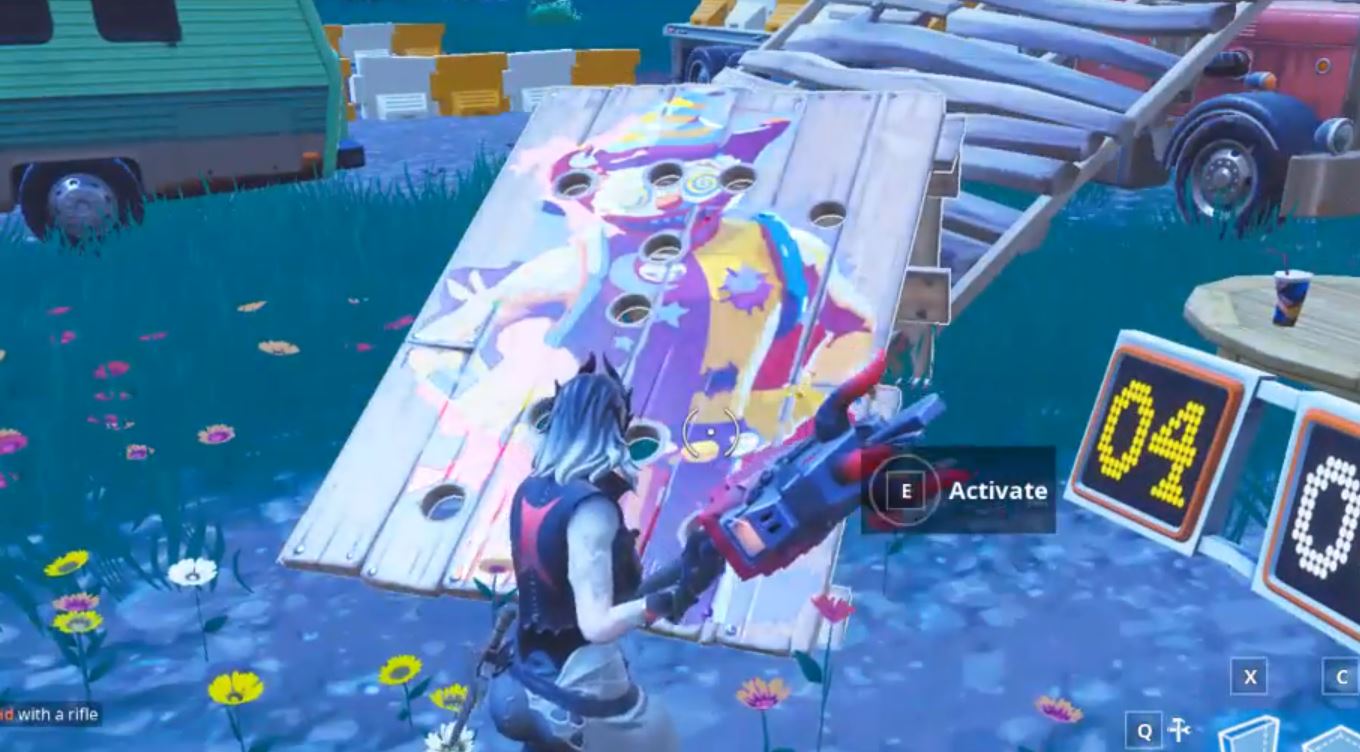 Another one of the new challenges we'll see this week is the "get a score of 10 or more on different Carnival Clown Boards". There have been similar challenges like this in the past, but the Carnival Clown Boards haven't been in the game for too long. In order to complete this challenge, players will need to locate three different Carnival Clown Boards around the Fortnite map. Once a player is close enough, they'll have the option to activate the board and will then need to successfully hit ten targets.
The other challenges for Season 6, Week 9 are pretty straightforward. Completing the "get 30s of airtime in a vehicle" can be completed using an ATK or a Quad Crasher. We don't know any of the stages for the two stage challenges, however they'll likely be similar to the first stage of the challenge.
This week might be frustrating for players as there'll be a lot of challenges that need to be completed with explosive items.
As always, we'll keep you updated and let you know what the official challenges are for Season 6, Week 9 when they're unlocked.