Here's the full patch notes for today's v11.01 Fortnite update which includes new content for Save the World and fixes for Battle Royale.
Epic Games announced that they'll be releasing the v11.01 Fortnite update today with downtime to begin at 4 AM ET.
The update brings new content for Save the World and addresses several issues that has plagued Battle Royale since Chapter 2 was released. Epic have yet again decided not to post their official patch notes, so we've created a list of unofficial patch notes from the information we've gathered on Twitter and Reddit.
v11.01 Fortnite Update Patch Notes
XP Levelling Buff
According to Fortnite leaker iFireMonkey, Epic Games have buffed the XP you gain this season. After complaints about the XP system since Chapter 2 began, Epic have adjusted the XP system. Prior to the change, it would have required more than 1,000 matches at 5,000 XP in order to reach level 100 along wih completing all challenges and punchcards.
The XP from Punchcards have been increased from 2,000 and 4,000 XP to 8,000 and 16,000 XP.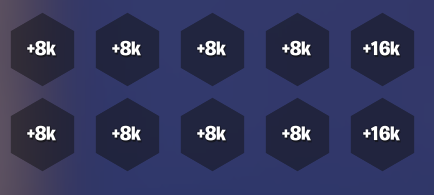 XP has also been increased for completing different actions in-game including rebooting a player, discovering a new landmark, reviving a player and more. Here's some of the main new XP gains you get from each action:
Rebooting a player – 500
Discovering a new Landmark – 2,000
Opening a Supply Llama – 1,000
Consuming a forageable item – 35
Opening a supply drop – 190
Reviving a player – 100
Assist Elimination – 210
Opening a treasure chest – 215
Elimination – 255
Opening an ammo box – 190
Reaching new circle – 150
First elimination – 420
First landing – 370
Heashot elimination – 75
First match of the day – 6,000
Weapon upgrade – 190
Fishing spot – 105
Weak spot – 10
5 Killstreak – 85
6 Killstreak – 40
The XP for completing challenges will apparently change to 52,000 XP per challenge completed. However, it appears this will take affect from next week's challenges onwards. Reddit user Plugtoll has crunched the numbers to see what it'll take to get to level 100 after the changes: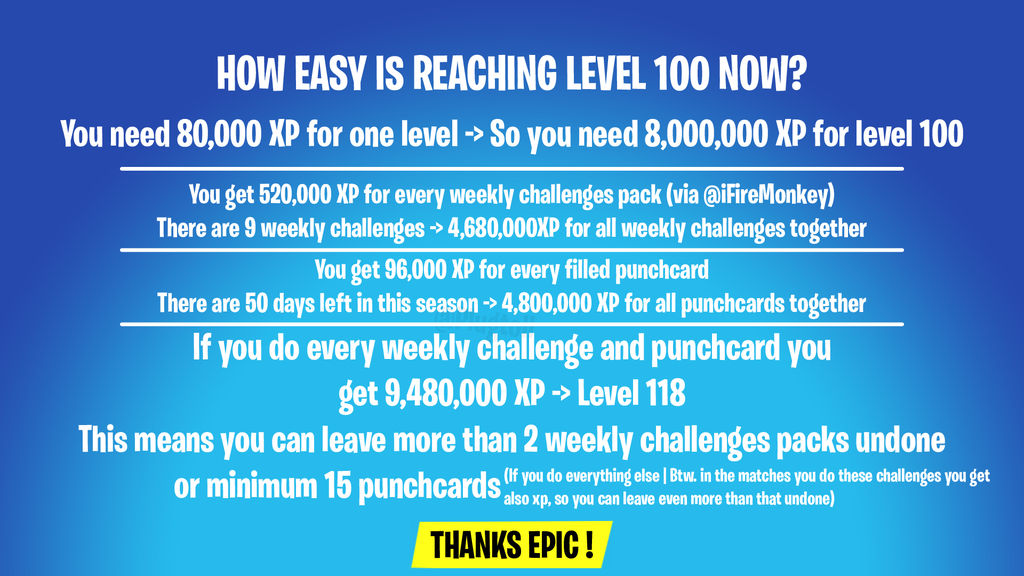 Bug Fixes
Epic have fixed the FPS issues players were experiencing on PC along with other bug fixes which can be seen below:
Unable to use swapped-to item when a player is backed up against the camera
Ready up button not appearing unless entire party has been eliminated
Issue with the Get an elimination from 50m or further for the Open Water Challenge.
Daily Punchcard remaining on-screen
Gift Wrap missing for gifted Battle Passes
If there's anything else is discovered for today's update, we'll update this post.