Here's how to join the Operation SkyFire Fortnite live event including which game mode it'll be in and how to join.
UPDATE: Updated guide for The End Chapter 2 Finale Event!
We're finally at the end of Fortnite chapter 2 season 7. The Operation SkyFire live Fortnite event will be playable at 4 PM ET. However, if you haven't logged into Fortnite by now, it's highly unlikely you'll be able to witness event yourself.
None of the other game modes are available now and players can now join the Operation SkyFire playlist. For those that are logged in but are confused as to how they can join and watch the live event, we have some quick tips to help you out.
How to Join the Fortnite Live Event
If you're logged into Fortnite already and you can't see the Operation: Sky Fire playlist, head to the menu located on the top right of your screen. Select game mode and re-selected Battle Royale.
You should now only see the Operation: Sky Fire event as seen in the image below: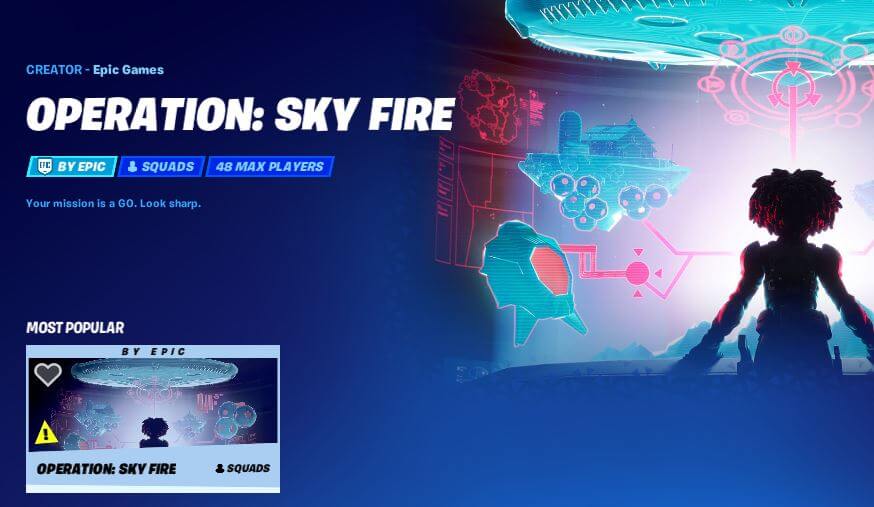 The event game mode is squads and there's a maximum of 48 players in each lobby. Select Ready whenever you want to jump into the game. It appears as though you can't team kill in this game mode. The event will go live at 4 PM ET, although they usually start a little later than the scheduled time.
Once the event ends, we'll go into downtime until the launch of chapter 2 season 8. Until then, be sure to check out all of the latest news and leaks we post heading into the new season. Turn on website notifications so you don't miss any of the leaks and news.
For those that weren't able to experience the event, we'll be posting a recap of what happened during the event along with a video of the event.