Every two weeks we see a patch/bug fix update go live in Fortnite Battle Royale, and with it comes new files to datamine. We already know we'll be getting High Stakes challenges, a new 'Getaway' LTM and a grappler item, all of which have been showcased by Epic on their PAX Summer Skirmish stream. Here is what to expect in v5.4.0.
Leaked Skins & Other Cosmetics
In every patch update, we get leaks of new skins and cosmetics that are added to the game files and it's guaranteed we'll get some leaks on new cosmetics coming to the game. Most of the other cosmetics in the previous update have already been in the Fortnite Item Shop except for the Cloaked Star skin.
High Stakes Event & Grappler Item
Epic have already announced the High Stakes event will be coming this week which will include challenges and rewards, new cosmetics including the Wild Card skin and the 'Getaway' LTM. We'll also be seeing the introduction of the grappler item which was revealed by Epic on stream, as well as being added to the in-game news feed.
Revolver Vaulted, Item Rarity Changes & Shield Potions Getting Stronger
During the recent dev update for Fortnite Battle Royale, it was mentioned that the revolver will be going in the vault, with other items to possibly follow in Season 6, confirming that we won't have any further items vaulted this season. Other smaller changes coming in the v5.4.0 update mentioned in the dev update include the ability to stack three shields instead of two, as well as Boogie Bombs now dropping in stacks of two. Item rarity changes will be coming, with the C4 rarity  changing from rare to epic, as well as the suppressed pistol and Port-a-Fort getting rarity changes as well.
Storm Changes
In a dev update on 31st August, design lead at Epic Games, Eric Williamson, mentioned there'll be storm changes coming in v5.4.0. In phases 7, 8 and 9 of the storm, all player built structures will break. A pulse will occur when each closing storm finishes shrinking. Objects that are deep in the storm or in the middle of the safe area will remain unaffected.
To clarify storm edge damage: behavior in 5.40 is to break all player built structures close the storm edge in phases 7, 8, and 9. The pulse happens when each closing storm finishes shrinking. Objects deep in the storm (or in the middle of the safe area) are unaffected.

— Eric Williamson (@erwil9) August 31, 2018
Map Changes
We always see map changes in the patch updates, small or big, there's been map changes in the last few updates. We've already seen two of the map changes coming in v5.4.0 on the Fortnite PAX stream, Dusty Divot getting a store/shop added to it. We've also seen on the 'Getaway' LTM reveal that the newest building in Titled Towers that's been slowly developing as the weeks go by will finally be completed and will be some kind of fish store.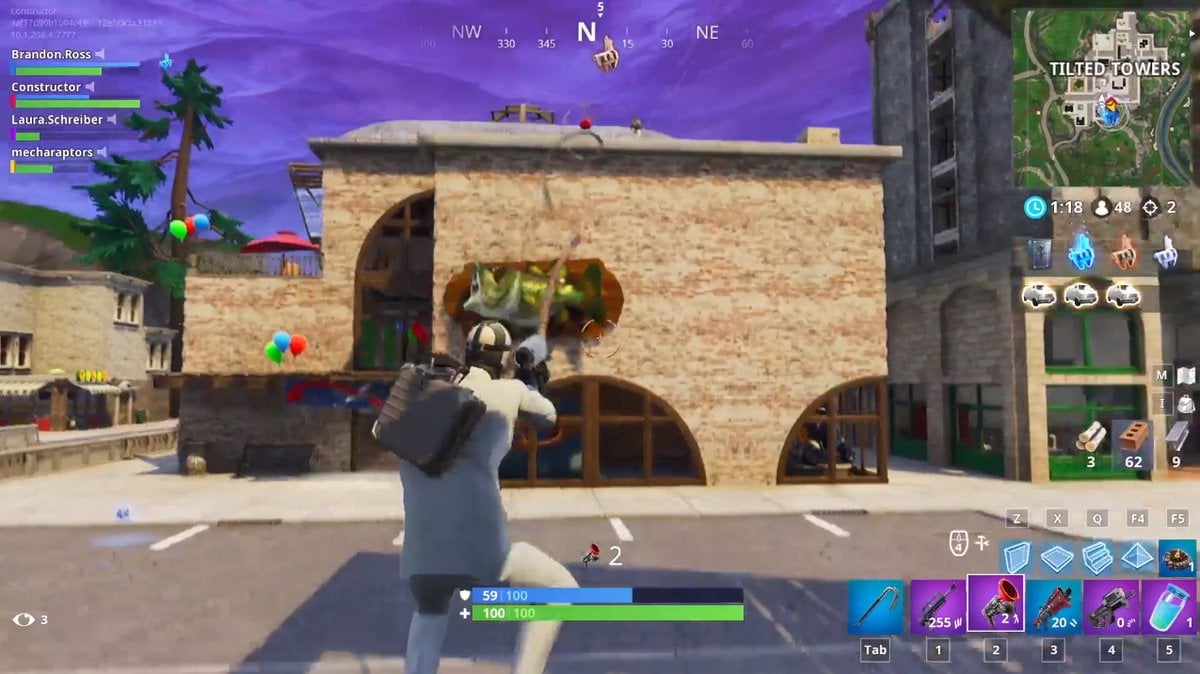 Other Added Files
In previous weeks we've seen other files being discovered including new weapons added into the files with a flamethrower and a quad launcer being added last week. We've seen a lot of 'Event' files too, some of which come to fruition and other which don't such as the "Tomato Event".
With the season coming to an end in less than a month, we could see files giving us hints as to how the season will end. Although there's been no official word from Epic on when v5.4.0 will drop, it's likely we'll see it coming tomorrow or Thursday.