Here's the location where you can complete Ferrari time trials in Fortnite.
Epic Games teased the Fortnite x Ferrari collaboration yesterday by posting a close up of the Ferrari logo on car with Fortnite on the tyre. Ferrari then confirmed the Ferrari 296 GTB would be coming to Fortnite today on their Twitter account. There was no information apart from the new vehicle coming to Fortnite.
We also have three Epic quests for Fortnite week 7 that will require players to use the Ferrari 296 GTB. Here are all of the challenges:
Complete Ferrari Time Trials
Reach Maximum Speed in A Ferrari
Drive a Ferrari through the Storm
We also have a Ferrari bundle in the Fortnite Item Shop which includes the Modena Icon and Maranello Fortnite skins as well as the Ferrari Turbo Back Bling. Here's a look at those cosmetics:
Players probably don't know how to find a Ferrari or how to complete Ferrari Time Trails, here's how to complete the challenge as quickly as possible.
How to complete Ferrari Time Trials in Fortnite
In order to complete the Ferrari time trials, you'll need to know where to find one. Luckily, it seems like not all of the locations are random for each game. We have a guide here that'll give you a 100% spawn location for the Ferrari 296 GTB.
Once you have a Ferrari, you can begin the Ferrari Time Trial. One of the locations of where you can find a Fortnite Ferrari Time Trial is the purple bridge which is north east of Slurpy Swamp and a few metres by the gas station.
Here's the map location: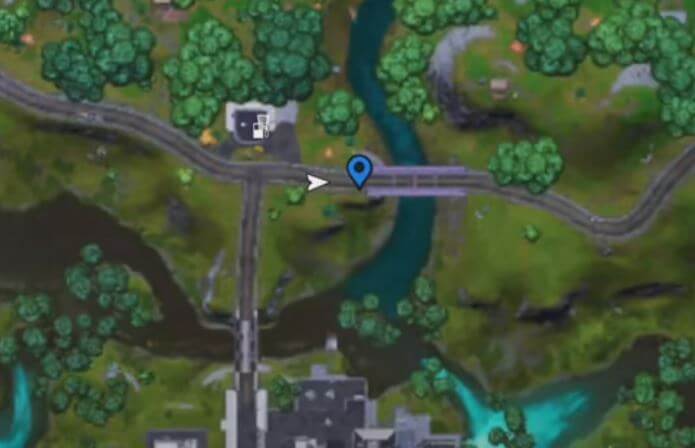 Once you see the Ferrari Time Trial outline, simply drive the car following the road and ensure to go through the time trial holograms. You should easily be able to drive trhough each one and complete the trial. It'll take you roughly a minute to complete, but you should be able to complete it on your first try.
God speed!