Fortnite is known for its building feature and everyone knows this is what sets it apart from other Battle Royale games. There have been changes to the amount of damage materials can take before being destroyed and Epic have decided to do this in an attempt to change players tactics.
Regardless, building is still an essential skill for Fortnite, as it helps provide cover and can put you in a better position to see opponents. Materials can either be harvested or found in floor loot. You can break different objects in Fortnite to get materials and you will receive different materials, depending on the object you break. When breaking materials, try to aim for the blue circle, as that shows you the weak spot and helps you to break the item quicker.
Reddit user SaltySnailComics has compiled a list of the three best objects to destroy for each material.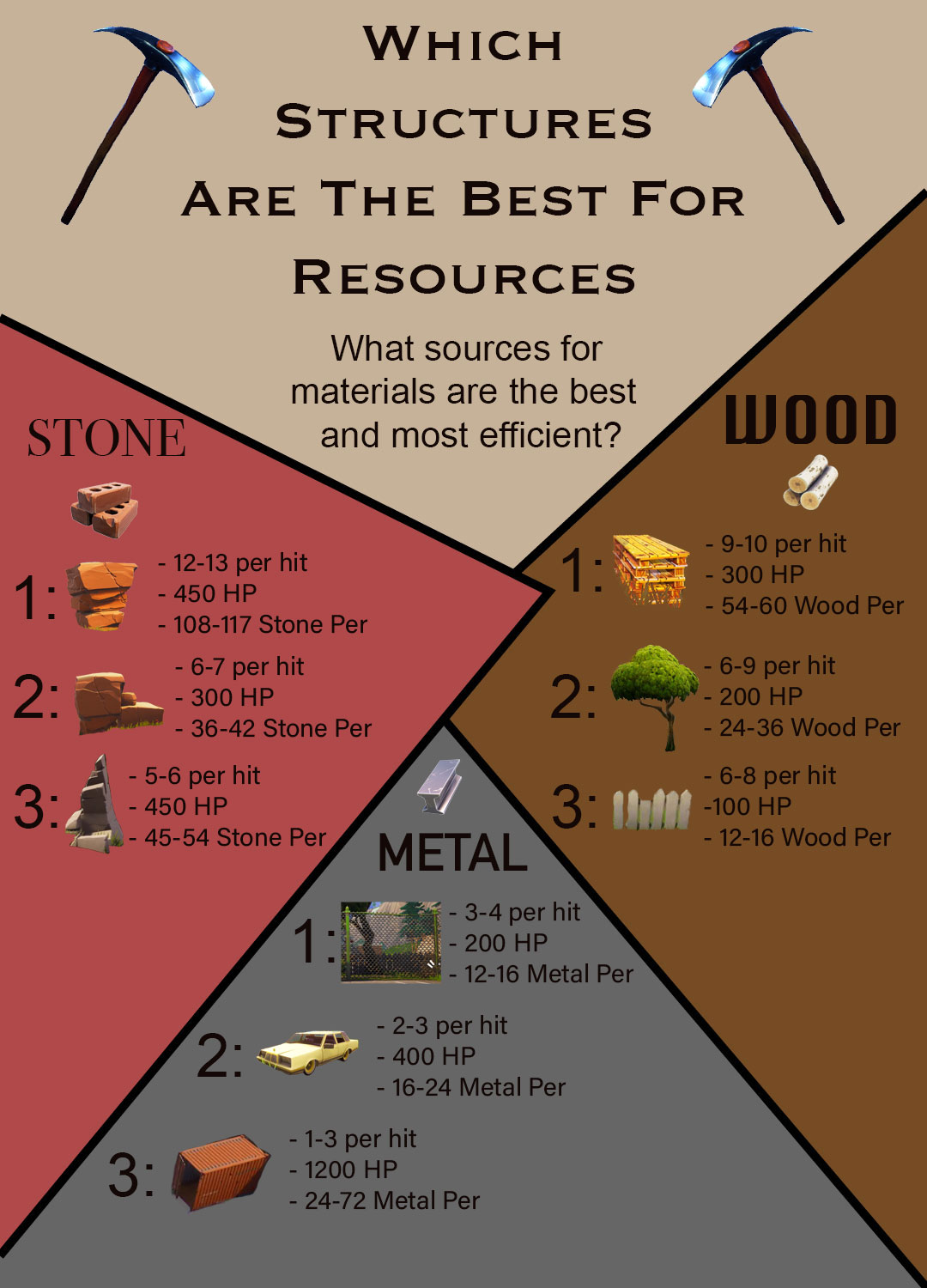 Remember, you can only destroy objects with a pickaxe/harvesting tool to get the materials and shooting at these objects will simply destroy them, without receiving any materials.
The maximum amount you can hold for each material is 999 and any other material farmed after this point simply gets dropped at floor loot, available for anyone to pick up.
All three materials have different build times and damage that they can withhold before breaking. There were changes that were implemented in the v5.1 update to the health of the materials, as outlined below:
The starting health of Wood has decreased from 100 to 80, with the maximum health for this material has also decreased from 200 to 150.
The starting health of Stone has decreased from 90 to 80, with the maximum health for this material decreasing form 200 to 150.
The starting health of Metal has decreased from 200 to 150, with the maximum health has increased from 400 to 500. The build time has increased from 20 seconds to 25 seconds for Metal.
Overall, the materials have been nerfed as they are easier to break. This will force players to play strategically and not just build.
These changes have only been made recently and Epic are continuously making changes/improvements as and when needed. They tend to look at statistics and take feedback from the community when changes are made to see if it has improved or hindered gameplay. This means that any changes made to the game are not necessarily permanent.