Epic Games have announced the next Fortnite update, v11.01, along with the time and date of the update.
UPDATE: Added leaked skins article links at the bottom of the article.
Epic Games launched Fortnite Chapter 2: Season 1 on Tuesday, 15th October, more than 40 hours after the season 10 live event.
Epic have now announced the first update for the Chapter 2. The next update will be the v11.01 update and will be coming tomorrow, 22nd October. The tweet states there will be new content for Fortnite Save the World and addresses some known game issues.
There will be server downtime for this update which will begin at 4 AM ET (8 AM UTC). One of the known game issues that will likely be fixed in the v11.01 update is the performance issues, in particular the FPS issues players have been experiencing. There are things you can chance in your settings to increase FPS including turning the audio to low and turning off 3d audio. However, some players have stated that doesn't fix the issue.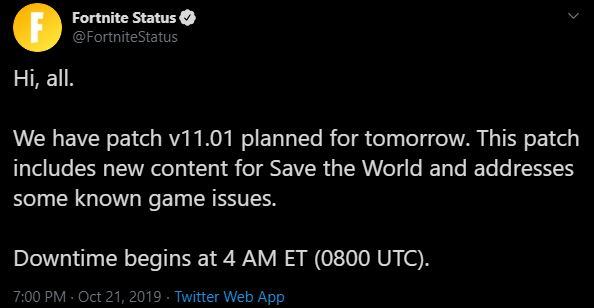 We could also see changes to the way XP is gained as the new levelling system has come under scrutiny. Epic stated that there is "less grind, more fun" this season, however, players are levelling up far slower than the previous seasons.
There's also the possibility that Epic introduce a new item in the update. With a large number of weapons and items vaulted at the start of the season, all of which are listed here, it doesn't seem far fetched Epic will begin to add new weapons and items. Before the end of Season 10, Epic didn't add any new item or weapon for three weeks, likely due to the fact they were going to vault the majority of weapons and items for the new chapter.
The news feed might update tonight after the Fortnite Item Shop resets to announce the new item. As always, we'll keep you updated with any of the latest Fortnite News. We'll also be posting the v11.01 patch notes once they're release along with any leaks that emerge from the update.