Epic Games are constantly adding new things to Fortnite, such as skins/cosmetics, emotes, weapons and items, to improve the game and keep the content fresh. They had also introduced the Vault at the start of Season 3 so that weapons and items that are not being utilized can be placed in the Vault and more weapons/items can be introduced. The weapons/items that are currently in the Vault are the SMG, Smoke Grenades, Guided Missile and the latest addition, Crossbows. Weapons/items placed in the Vault do not necessarily mean that they will not be added back to the game as some items that have bugs can be placed in the Vault and released again when it has been fixed, such as the Boogie Bomb.
Epic Games are very interactive with the Fortnite community, as you can always see the devs for Fortnite replying to fans on social media and interacting on Reddit. There have been many suggestions by Fortnite fans on Reddit and Epic have introduced some of these concepts to Fortnite and we have compiled a few of these suggestions below.
Damage Traps are used a lot in Fortnite Battle Royale and can cause significant damage to players when it has been set off. Before the V.3.5 update, there was no way in which players could distinguish between a friendly or enemy trap. This was mentioned many times by Fortnite fans and Reddit user Sokiri suggested that the trap should have a blue tint added to friendly traps to make it easily distinguishable by teammates. This concept was added to Fortnite in the V.3.5 update. There was a similar concept posted by Reddit user Colton210, which we had covered in a previous article.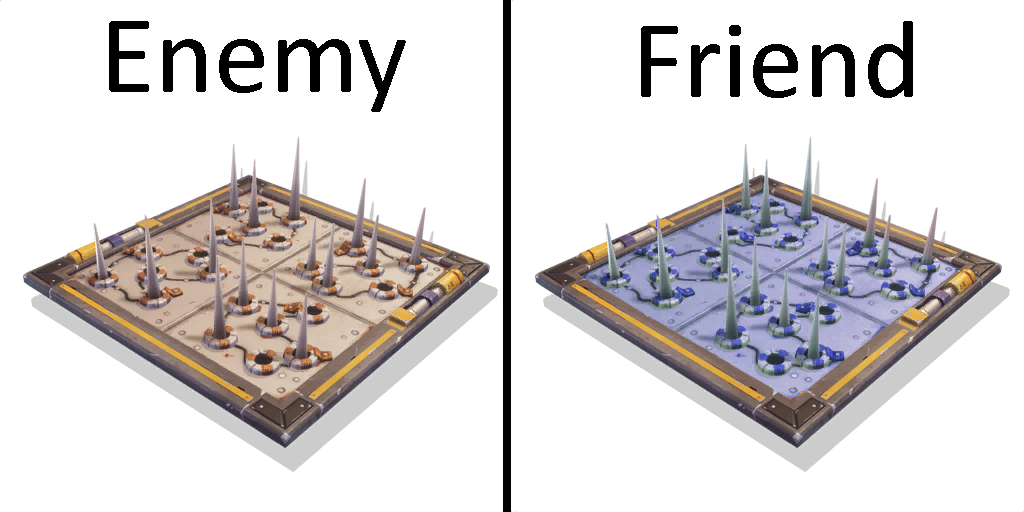 Fortnite held a #BoogieDown contest where players were asked to make a video showing a dance move they wanted to be added as an emote in Fortnite. The winners of the contest were revealed in the YouTube video posted by Fortnite on the 21st April:
However, many fans thought there should have been another winner.. the "Orange Shirt Kid":
https://twitter.com/Kid_Fortnite12/status/979840385206845440?ref_src=twsrc%5Etfw&ref_url=https%3A%2F%2Fwww.polygon.com%2Ffortnite%2F2018%2F5%2F1%2F17306480%2Ffortnite-boogie-down-challenge-orange-shirt-kid-emote&tfw_site=Polygon
There was an overwhelming response to include the "Orange Shirt Kid" as an emote in Fortnite and even signed a petition to get justice for him. A new emote was revealed for Season 4 called Orange Justice and also had the description, "It's also a great exercise move", referring to a comment the "Orange Shirt Kid" made in his Boogie Down Contest submission video. Players can unlock this emote by reaching tier 24 and it is also available to players that have not purchased the Battle Pass:
Haunted Hills was added to the Fortnite Map in V.2.0, along with Tilted Towers, Junk Junction, Snobby Shores and Shifty Shafts. Haunted Hills was actually a fan concept that was posted on Reddit by blorfie and can be seen below:
The following skin concept was posted on Reddit by tursuboi and was the inspiration to the Tomatohead skin that was released in Season 3. Epic even included the pizza apron that is seen in the original concept:
Reddit user Benguinn felt that there should be another emote wheel dedicated to throwable emotes as there were not a lot of players using these emotes, possibly due to the limited amount of spaces available in the original wheel. Reddit user Sokiri however suggested that there should be multiple emote wheels to be able to cycle through the various emotes in the game. Epic had recently added multiple emote wheels in the V.4.0 update with the following mentioned in the patch notes:
You are no longer limited to just the 6 slots on your emote wheel for Sprays and Emotes and can now use any of the ones you own in a match!

The Locker slots act as a page of presets, but you can cycle through to any emotes marked as a favorite and then all emotes, sorted by type (PS4: L1/R1; XB1: LB/RB; PC: Mouse Wheel; Mobile:Buttons added next to radial menu).

Added new "Locker Emote Slot" button bindings, which allow you to immediately trigger any of your 6 Emote or Spray presets.
You can read the V.4.0 Patch notes here.
There were many fans in the community that wanted map zooming added to Fortnite with Reddit user KyleHogey being one of the fans posting about this concept. Epic has since added this concept in V.3.4. We had actually covered this concept in a previous article when it was posted and you can read more about how this can improve gameplay here.
As you can see, Epic are always listening to the community and incorporating fan concepts if they feel like they will work well in Fortnite.