We're sure there have been many times you've been hesitant to enter a room because of traps, only to have your teammate ask why you're standing at the door at not going in, when it's a trap they have placed!
At the moment, there is no difference in the appearance of the traps if it has been set by a teammate or by an enemy, so this can catch a lot of players off guard, but what if Epic introduced a new system so that players will not make this mistake again?
Reddit user Colton210 has come up with the concept of having the spikes on traps being in green when it has been placed by a teammate. This will make it easily visible to players to see that the trap is 'friendly', so to speak.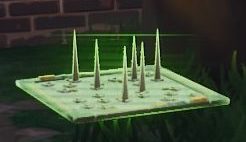 We would suggest that the color of the trap to be more like the green of the trap when it is found. This will be perfectly visible by teammates, avoiding any confusion.
We think this minor adjustment will help players to identify teammates traps, without changing too much in the game.
UPDATE: Chris Attalus has confirmed there'll be something coming in version 3.5 that'll allow you to distinguish between enemy and friendly traps