One of the key additions to Fortnite in Season 5 is the addition of All-Terrain Karts (ATK). The kart can hold four players, and is a much quicker way of making your way around the map, with the karts found around the edges of the map. ATKs are similar to Shopping Carts, they don't spawn in the same play every time, but here are the most common places to find one thanks to TheSquatingDog.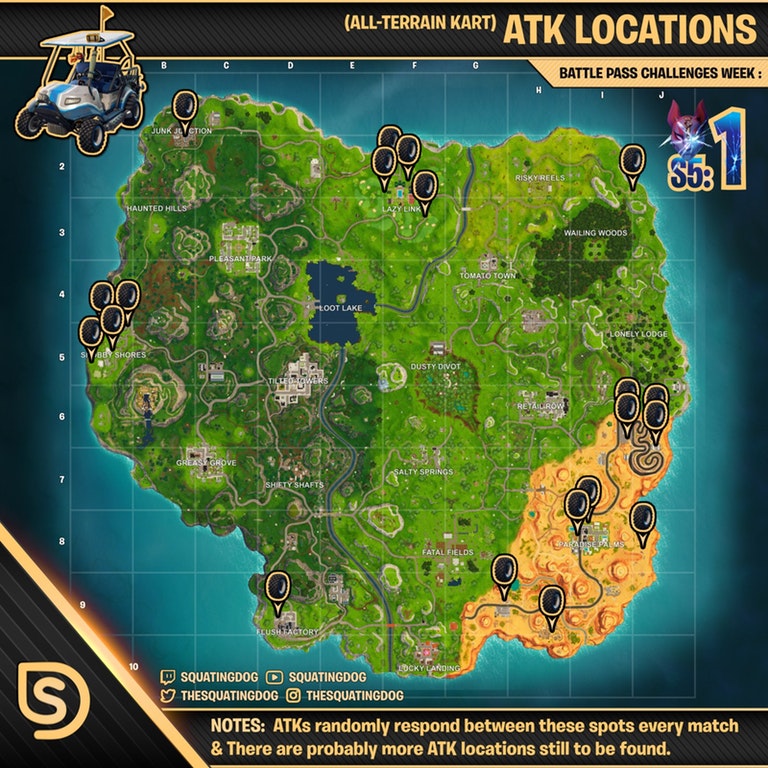 As you can see from the map, the most common places to find a kart are in Snobby Shores, Flush Factory, Lazy Links, Junk Junction, near Wailing Woods, around the race track, and in the new desert biome, especially near Paradise Palms.
Snobby Shores
Garage of the nothernmost house
Guardhouse in the north
Road that leads to Tilted Towers
Lazy Links
In front of the 4 door garage, southwestern corner
Two near the lake in the northeast part of the area
Race Track
In the garage, the bigger of the two building, north west corner of the race track.
North East and East side of the race track
Paradise Palms
Small suqare in the middle of the town with a big cactus, under the eaves.
Far East of the Paradise Plams.
North side of the town
Junk Junction
Far northwest of the map, big building in the center of the arena by the garage doors.
Other Kart Locations
One can be found north of the wild west town, near a police car by the road.
Gas station near the edge of the desert between a gas station and the water tower.
Lone house north of Wailing Woods, near the edge of the map, in the driveway in front of the garage.
As mentioned, these karts don't spawn in exactly the same position, and these may not be all of the locations, but it gives you a good idea of where to find one.