Struggling to complete the challenges for Fortnite Season 8, Week 9? Here's a cheat sheet that'll help you complete all of the week 9 challenges as quickly as possible.
The Fortnite Season 8, Week 9 challenges are available to complete after unlocking at 3:30PM BST. We wouldn't blame you if you forgot the challenges were set to go live due to the amount of leaks being pumped out from today's v8.50 update.
A lot of players are occupied with the brand new Fortnite Endgame LTM, with additional "Endgame" challenges and rewardsmade available by Epic.
We still have a cheat sheet for you thanks to The Squating Dog. Unlike last week, there aren't many challenges that require a cheat sheet.
One of the challenges in week 9 requires players dance between different objects. The challenge is a staged challenges, with a total of three stages. The first stage requires players to dance between ice sculptures. The second stage requires players to dance between three dinosaurs, and the third and final stage requires players to dance between four hotsprings.
Other challenges in week 9 include a staged challenge whereby players need to land at different named locations. Players will also have to eliminate opponents in different matches, search seven chests at Polar Peak and/or Lonely Lodge, ride 3 different Volcano Vents without landing and revive a teammate using the Reboot vans that were introduced to the game recently.
Here's the Season 8, Week 9 cheat sheet created by The Squating Dog: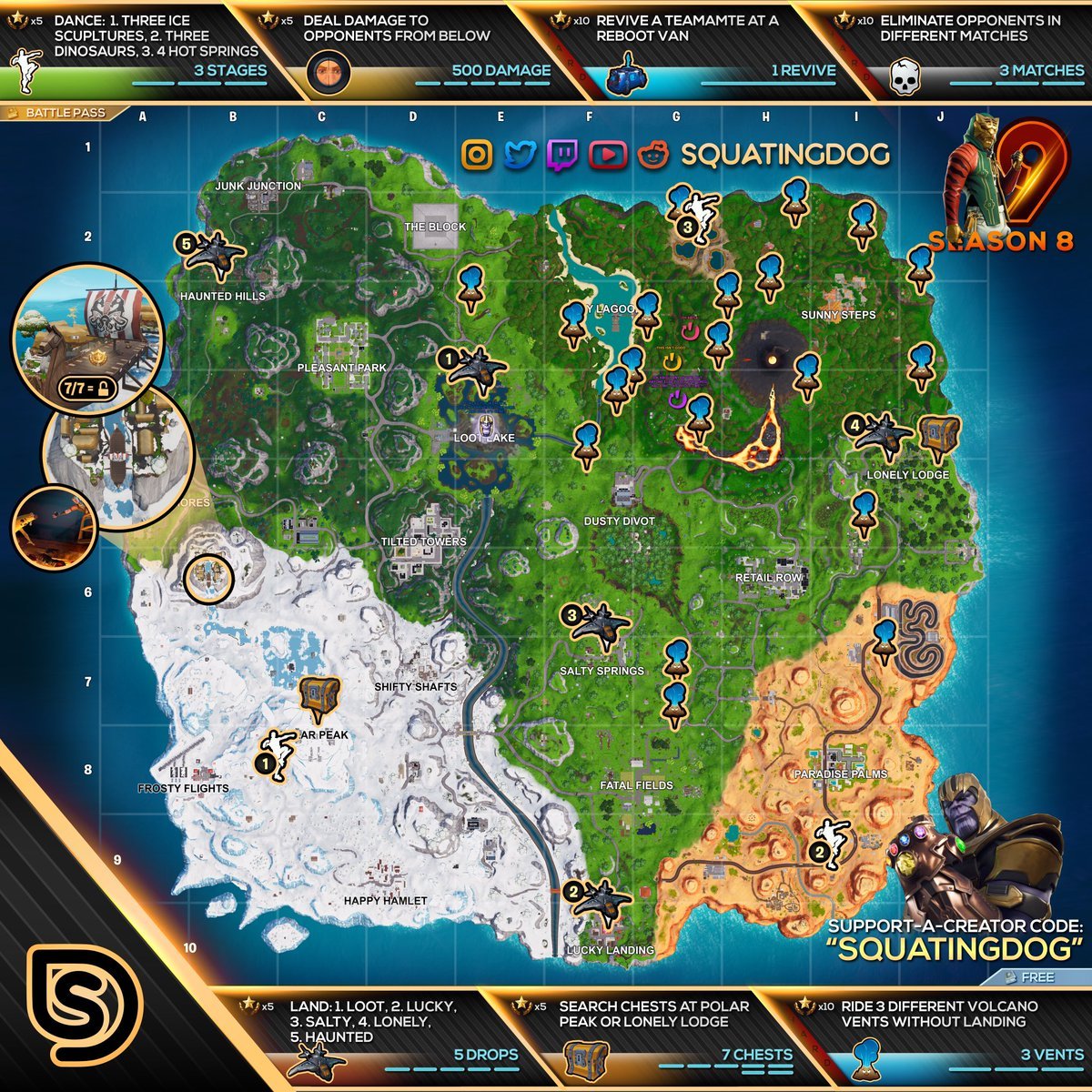 As you can see from the cheat sheet, the three locations where you need to dance have been marked. The first stage is in the snow biome, the second in the desert biome, and the third and final stage near the jungle biome.
The cheat sheet also marks the location of all of the Volcano Vents on the map. You'll notice there's three Volcano Vents close to each other near Lazy Lagoon. These vents are probably the easiest way to complete the "ride 3 different volcano vents without landing" challenge.
The locations in which you'll need to land to complete the landing staged challenge has also been marked. The first stage requires you to land at Loot Lake followed by Lucky Landing, Salty Springs, Lonely Lodge and Haunted Hills.
The locations of the Reboot vans haven't been marked as they are found in every named location making them extremely easy to find.
Once you've completed every week 9 challenge, players will be rewarded with the Fortnite Discovery challenge week 9 loading screen. This week's loading screen provides the location of a hidden Battle Star, helping you to tier up your Season 8 Battle Pass if you've not yet hit tier 100. You'll find the hidden Battle Star on the boat found in Viking Village.
Here's all of the Fortnite Season 8, Week 9 challenges:
FREE PASS CHALLENGES
Search chests at Polar Peak or Lonely Lodge (7)
Staged Challenge: Land at… (5)

Land at Loot Lake (1)
Land at Lucky Landing (1)
Land at Salty Springs (1)
Land at Lonely Lodge (1)
Land at Haunted Hills (1)

Ride 3 different Volcano Vents without landing (1)
BATTLE PASS CHALLENGES
Deal damage to opponents from below (500)
Eliminate an opponent in different matches (5)
Staged Challenge: Dance between… (3)
Revive a teammate from a Reboot Van (1)