There haven't been any major changes to the Fortnite map for some time, and a large portion of the player base either want a new map added to the game, or they want to see drastic changes to the current map. Reddit user CurdledART has created his own version of the Fortnite map which re-introduces several POI's that have been removed from the map.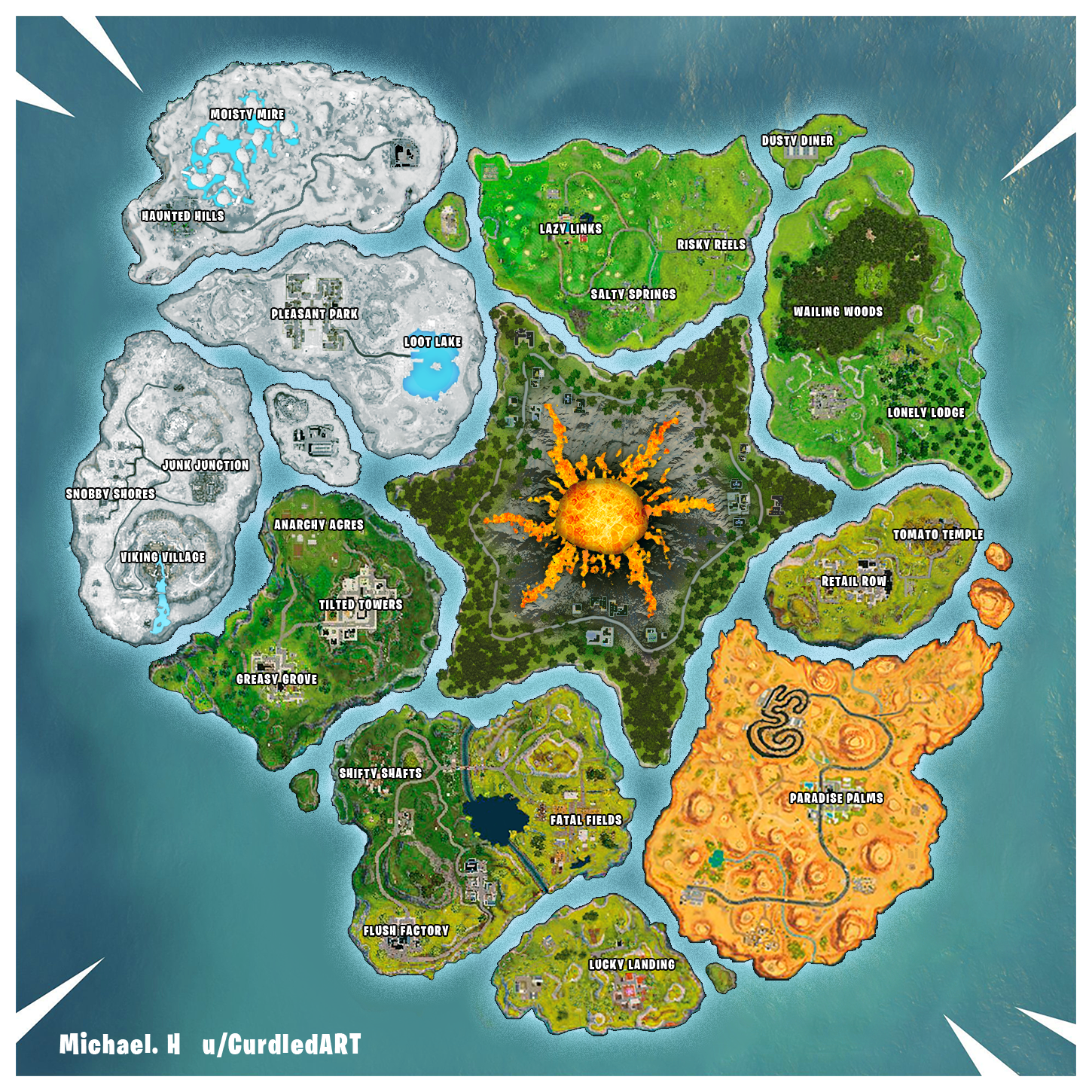 As you can see, the map features several seperate islands which all have one or more POI's on them. The biggest change to this Fortnite map concept is the volcano added to the middle of the map, with Leaky Lake being completely removed. Anarchy Acres, Moisty Mire, Prison, and Factories have been added back to this concept map. Some of the player base have expressed a desire in wanting to see Prison and "OG Factories" added back to the map.
The creator of this concept, Michael. H (CurdledART), has added snow texture to the top left of the map, likely due to the time of the year as well as players stating they'd want to see map changes in each season, and MrPopoTFS has stated in a Reddit comment that they've heard the feedback regarding seasonal map/texture changes, so it's possible we may see a snow version of the map in the upcoming weeks.
There haven't been any major changes to the map since Season 2 (v.2.2.0) when Epic added Titled Towers, Shifty Shafts, Junk Junction and the Motel to the map. Since then, new locations have been added or replaced existing POI's including Viking Village, Paradise Palms, Lazy Links, Lucky Landing, Tomato Temple, Risky Reels, Snobby Shores and Haunted Hills. There have also been some other changes to the map including the destruction of POI's when the meteor crashed into what was then Dusty Depot and Kevin the Cube destroying buildings as well. Epic have also had the floating island that started at Loot Lake move around the map.
This concept was clearly just made for fun, and to give Epic ideas in ways in which the map could be changed in order to freshen the game up as they've taken community ideas in the past and implemented it into the game. It's unlikely Epic will make an entire new map, however we could see some much needed major map changes in Season 7.
Would you want a new map, an ultered map, or keep the map as is? Let us know your thoughts in the comments section below.