Here is the location of the hidden Battle Star in the Fortnite Season X/10, Week 1 Loading Screen.
Loading Screens for Fortnite Season X are no longer given once Weekly Challenges have been completed as challenges have been removed and instead been replaced with Missions. You can earn Loading Screen by completed the Limited Time Missions, and you are not even required to complete all seven objectives for the Missions in order to get the Loading Screen.
Completing three of the objectives for the Limited Time Missions will unlock a new Loading Screen, but these Missions are only available for seven days once they have been unlocked. A new objective is released every day, so you must complete at least three of the objectives before they are removed to earn the Loading Screen, as they will not be available after.
Season X, Week 1 Loading Screen
The first Limited Time Mission that was unlocked is the B.R.U.T.E. Squad Limited Time Mission. The objectives/challenges for this Mission were:
Play matches with a friend (3)
Eliminations from closer than 5 meters (2)
Use the B.R.U.T.E in different matches (5)
Apply shields (500)
Deal damage to opponents from below (500)
Search Chests at Dusty Depot or Pleasant Park (7)
Visit Snobby Shores and Shifty Shafts in the same match (1)
Completing any three of these objectives would award you with the B.R.U.T.E Squad Loading Screen, as seen below: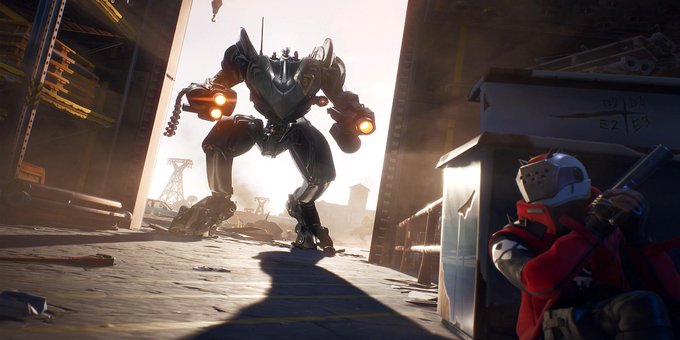 There were issues with the Battle Star not showing up for this Loading Screen, but they have been fixed in the v10.10 Fortnite Update.
Season X, Week 1 B.R.U.T.E Squad Loading Screen Hidden Battle Star Location
Here is the clue for the hidden Battle Star in the B.R.U.T.E Squad Loading Screen in the image below:
The co-ordinates shown in the Loading Screen are D2, D3, E2 and E3, which means that the Battle Star will be found on the corner of where these co-ordinates meet.