The Fortnite x Samsung iKONIK Skin promotion is ending on September 27th and a new Samsung Galaxy Skin will be releasing soon.
Update: Samsung confirm iKONIK skin will be retired on 26th September. GLOW skin teased. See bottom of post for link.
Update 2: The Glow Skin is now available. We've provided a link at the bottom of the article on how to redeem the skin and emote.
Epic Games have collaborated with Samsung a few times and there have been exclusive Skins that have been given to Samsung Galaxy users who have purchased the required devices.
The latest promotion with Samsung, which is still currently available at the time of writing, awards users with the iKONIK Skin and Scenario Emote and is for players who own the following new Galaxy devices: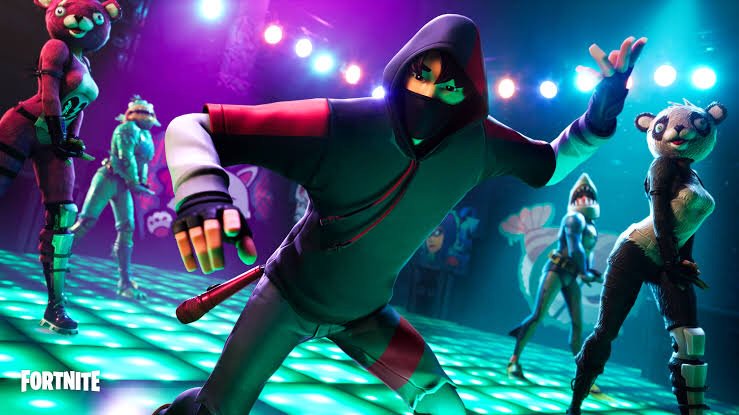 The Italian Samsung website states that this promotion will be ending on September 27th, so players will only be able to claim their iKONIK Skin and Scenario Emote until this date. They have also announced that there will be another Skin available for Samsung users. You can see the full statement on the iKONIK and new Glow Skin below: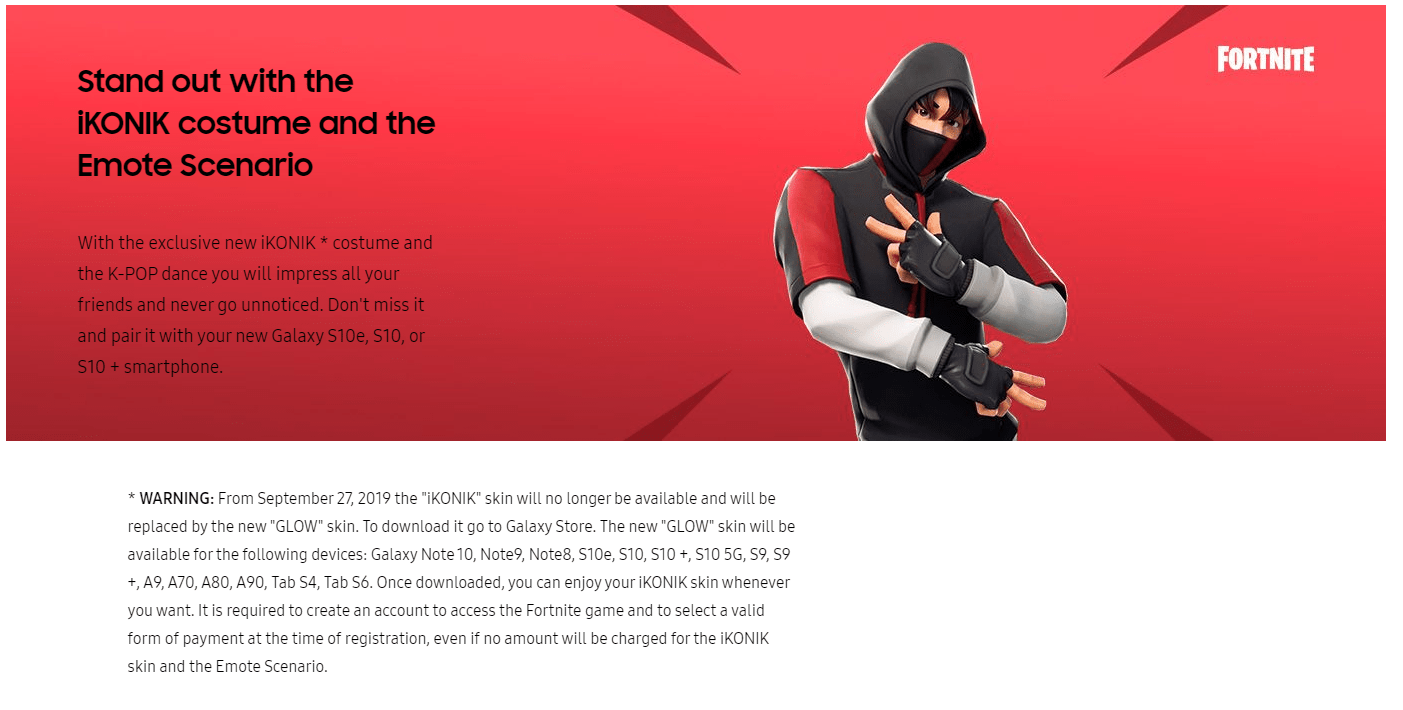 "From September 27, 2019 the "iKONIK" skin will no longer be available and will be replaced by the new "GLOW" skin. To download it go to Galaxy Store. The new "GLOW" skin will be available for the following devices: Galaxy Note 10, Note9, Note8, S10e, S10, S10 +, S10 5G, S9, S9 +, A9, A70, A80, A90, Tab S4, Tab S6. Once downloaded, you can enjoy your iKONIK skin whenever you want. It is required to create an account to access the Fortnite game and to select a valid form of payment at the time of registration, even if no amount will be charged for the iKONIK skin and the Emote Scenario." (Google translation)
The Glow Skin promotion is a bit different from the past promotions as it is available for older Galaxy devices as well and any user with the following devices will be able to download this Skin:
Note 10
Note 10+
Note 9
Note 8
S10e
S10
S10+
S10 5G
S9
S9+
A9
A70
A80
A90
Tab S4
Tab S6
They did not reveal what the Skin will look like however data-miner @s1l0x had previously leaked a "Davinci" Skin in-game from previous updates and it seems to have the Galaxy theme, as can be seen in the video below:
Encrypted "Davinci" skin and emote! pic.twitter.com/RoXoaTEgbO

— Prism (@pr1smdev) September 11, 2019
The codename of this Skin is "Davinci", which is the codename for the Samsung Galaxy Note 10 device, and according to data-miner @iFireMonkey, this will be the Glow Skin, although it has not been confirmed.
We will keep you updated with the latest as more information is released. UPDATE: iKONIK skin will be retired on 26th September, GLOW skin teased by Samsung. Click here for more information.
Update 2: How to get the glow skin and levitate emote.