Epic released Season 7 (v7.00) on Thursday, which brought a host of new content to the game including planes, map changes and new Battle Pass skins and cosmetics. Three different Fortnite skins were also discovered in the files, one of which has already been in the item shop, however, it appears as though we could be getting winter variants of a few popular skins.
Fortnite Leaked Files
According to files found in the season 7 update, the Red Knight, Raven, and Cupid (Love Ranger) could be getting winter themed variants. It's likely there won't be any major changes to the design of the popular Fortnite skins, with the main difference likely the colors of the skin with possible snow or ice effects on them.
There's no further information in the files on these skins and when they will be released. Epic could either release them as new skins or an unlockable style which could be unlocked by purchased it through the item shop, or through challenges. We do know that there are ice statues on the map, but these skins have their own CID which all skins have, and there are different files for the ice statues, which you can see below: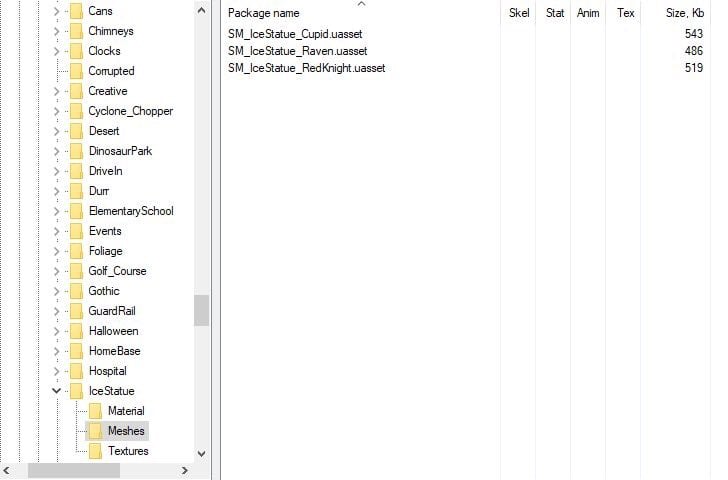 Read more: Village found under the Polar Peak Iceberg
As with all leaks, this has not been officially confirmed by Epic Games, so these may or not be coming to the item shop in the near future. Epic re released the Red Knight skin at the beginning of July, which caused outrage amongst the "OG" owners, but it's unlikely going to be an issue if these variants are available to purchase in the near future.
We'll keep you updated with the latest as there could be some changes or further information on these skins in the next update, confirmed as v7.01 by Eric Williamson, which may give us a hint of what they look like.
Read more: Leakers find sword sounds which could point towards a new LTM
Featured image via LootLakeBR