Here is the new Fortnite Starter Pack that has been leaked in the v12.00 Fortnite update, which includes a Skin, Back, Bling, Pickaxe and V-Bucks.
Chapter 2, Season 2 is finally here and you can download the v12.00 update now. We have already seen the official Battle Pass trailer as well as the official cinematic for the season, which revealed the theme.
As the update is available to download, data-miners have managed to find many new files that have been added to the game, which includes upcoming Skins, Back Blings, Pickaxes, Gliders and more. They have also managed to find a new Starter Pack that should be available to purchase soon.
Fortnite v12.00 Leaked Starter Pack – Iris Skin
A Fortnite Starter Pack usually contains a Skin, Back Bling and 600 V-Bucks, but there have been some packs that have been released in the past that also include another cosmetic. The Starter Pack that has just been added in the v12.00 files contains the following:
Iris Skin (Rare) – Keep the competition in your sights
Roundabout Back Bling (Rare) – Vibrant, vivid, and very round
Pop Axe Pickaxe (Rare) – Add a nice pop of colour
600 V-Bucks
Here is what the featured image for the Starter Pack looks like: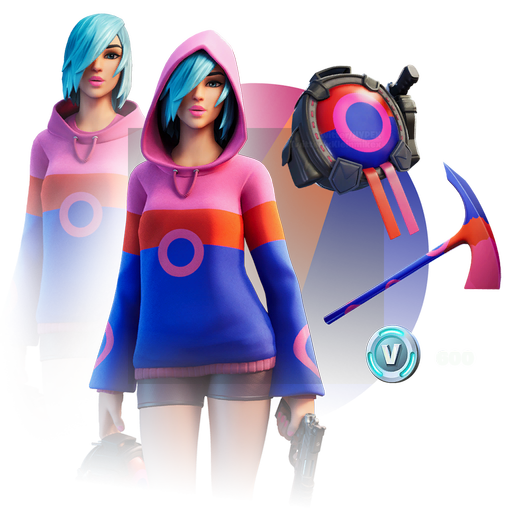 As you can see from the featured image, there will be a selectable style for this Skin where you can chose to have the hood on or off. These cosmetics were originally added to the files in the v11.40 update and has only been update to show as a Starter Pack in the v12.00 update.
The last Starter Pack to be released in Fortnite, which is currently still available to purchase is the Wavebreaker. This Pack includes the Wavebreaker Skin, Dry Bag Back Bling, Swell Striker Pickaxe and 600 V-Bucks and can be seen below:
The price of this pack in different currencies can be seen below, which will likely be the same price for the Iris Starter Pack, although prices have not been confirmed as yet
$7.55 (USD)
$7.95 (NZD)
$7.95 (AUD)
€4.99 (EUR)
£3.99 (GBP)