In Fortnite, a cloud has been spotted in the distance and when aiming at the cloud after the v6.31 update, there is a distinct sound players can hear. You can hear the sound below:
The snow storm makes noise when you look at it, similar to the meteor and sky rift from FortNiteBR
When looking at the meteor in Season 4, players would also hear a weird sound, which some players then analysed by putting the sound file into a spectrogram. This would then turn the sound into a spectrograph and from the meteor sound it created the 'Take the L' dance. As there was something found in the audio of the meteor, fans have decided to put the sound emitting from the snowstorm into a spectrogram. This is what the spectrograph shows:
There is a distinct logo that can be seen in the spectrograph, which we have seen before. This logo can be seen on both A.I.M, the free Hunting Party Skin, and on the parachute in which A.I.M had used to land in Flush Factory.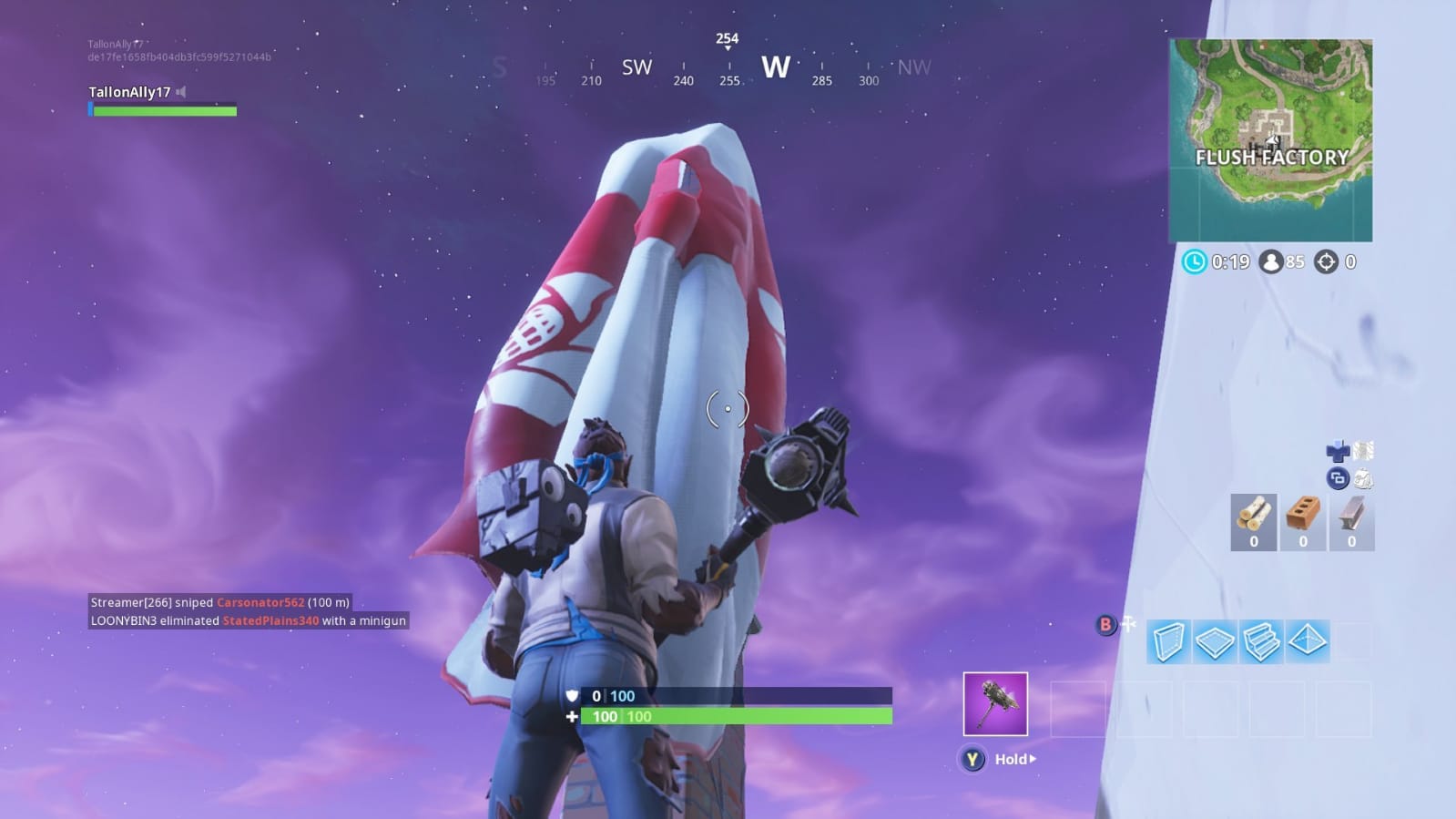 It has been speculated before that A.I.M was linked to the snowstorm in some way and the spectrograph supports this theory, as the logo clearly links the two. There were more files found after the v6.31 update that suggest Tilted Towers will be attacked, most likely by bots. It seems like the snowstorm will not only bring snow to Fortnite, but also more bots like A.I.M, which will then attack Tilted Towers.
Fortnite has gotten a lot chillier since the v6.31 update as you can see the cold breath from players when you look closely at the characters and icebergs have been spotted coming closer to the island. It seems like Epic were actually hinting at this a while back with the following tweet from the official Fortnite Twitter account:
Kevin? https://t.co/xK9p3gZlCr

— Fortnite (@FortniteGame) October 23, 2018

One fan, @IrishTekkers, has gone into the Playground mode to look closer at the iceberg and the fog and has noticed there is something on top it, which looks like it could be a building.
There seems to be something on top like a building? pic.twitter.com/ufCJ4ve1nQ

— jason breen 🎄 (@IrishTekkers) November 27, 2018

Season 7 is just around the corner and this story is only just beginning! We will keep you updated with the latest, but what do you think will happen in Fortnite?