Road Trip Challenges have replaced the Blockbuster Challenges from Season 4, where players simply need to complete all weekly challenges for seven weeks to unlock different loading screens. These loading screens have clues to hidden Battle Stars that can be found somewhere in Fortnite, but they do not become visible until you have unlocked the loading screen for it. The loading screens do not necessarily correspond to a certain week, but can be unlocked by completing any weeks challenge. For example, if you have completed all of the challenges for week 5, but none of the weeks previous to that, you will still unlock the first loading screen. Here is loading screen #4:
If you look closely in the background, you can see the clue for the location of the hidden Battle Star for this week. We have highlighted the Battle Star in the image below:
The hidden Battle Star can be found at the statue of the camel that is slurping a juice. This would of course be located in the desert biome, and you can see the exact location of the statue and star below: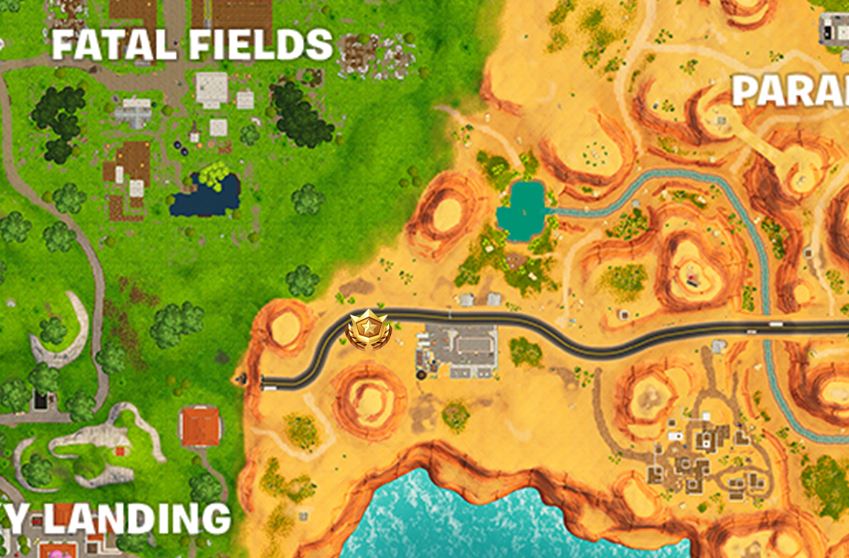 It is located at G9 on the Fortnite map, north-east of Lucky Landing on the back of the camel statue. Once you see the star, simply interact with it to receive 10 Battle Stars (full tier). Here is a video demonstrating the location of the star:
Remember, you must unlock the Road Trip loading screen #4 to be able to see this Star. There will only be three more Road Trip Challenges left, and there will be a mystery skin awarded once the seventh challenge has been completed. Last season, the mystery skin was The Visitor, it will be interesting to see how the story line develops for this season and what the mystery skin will be. There could be a drastic change at week 7, but we will have to wait and see.
Want to read more? Check out this article:
Fortnite Leaked Skins/Cosmetics & Emotes Found in V5.1 Files Yet to be Released