It's finally coming. There will be a Spider-Man Fortnite skin in Chapter 3. It also seems like we'll be getting Spider Web Shooters as a Mythic Item.
With Epic Games asking data-miners not to leak anything during downtime for Chapter 3, it was quite the surprise when we saw a TikTok ad showing some the cinematic trailer, or a clip after the event that takes place today.
What's worse is the entire Chapter 3 Battle Pass video has been leaked by Epic Games themselves. Although it was deleted promptly, that didn't stop players quickly downloading it and posting it online.
There's been numerous large YouTubers that have posted this on both Twitter and YouTube but we could see Epic getting them removed, although it seems unlikely considering the fact it seems like a large number of players have already seen the trailer.
As with all Battle Pass trailers in Fortnite, not only do they show off the new skins, they also show off new features for the new season or chapter. This trailer was no different with numerous new features leaked.
We've covered some of the map changes along with the new sliding mechanic and the trailer itself. Players love Fortnite skins, so we'll go over some of the Battle Pass skins including the main cosmetic, the Spider-Man skin!
Fortnite Spider-Man Skin
We knew a Spider-Man Fortnite skin would be coming to the game. A few leakers stated that Spider-Man would be coming to the game in Chapter 3 Season 1. It made sense with Marvel's Spider-Man: No Way Home movie releasing in the middle of December.
However, the expectation was that Spider-Man would release in the Item Shop a day before the movie releases with the possibility of some challenges to earn free rewards.
Epic decided it was better to have Spider-Man in the Battle Pass and here's a look at the skin along with the two additional skin styles that'll be available to unlock as you progress through the season: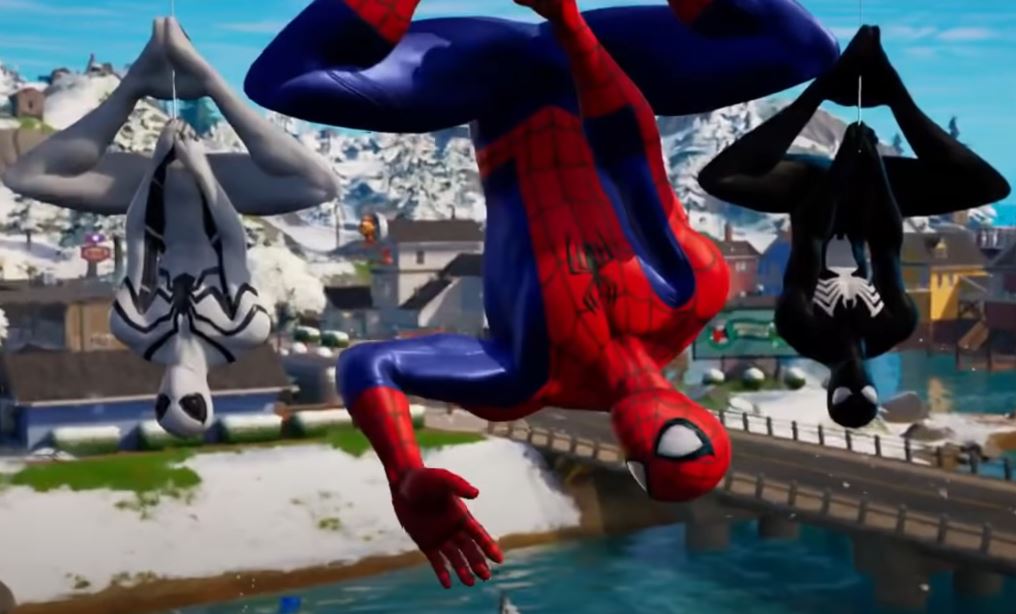 Spider-Man Mythic Item Fortnite
Not only do we get the Spider-Man Fortnite skin, it also looks like there will be a Mythic item too. In the trailer, you can see a character using Spider-Man's web slingers. You can also clearly see the character has the Spider-Man gloves on as seen below:
Based on the above, there's a chance we could see Spider-Man as a boss for Chapter 3 similar to what we saw with Iron Man in chapter 2. There was an Iron Man boss at his Stark Industries location and once you defeated him, you could pick up his mythic items.
With so much leaked already, it'll be interesting to see what else Epic have in store for us in the new chapter.