Bushes were first introduced to Fortnite Battle Royale in the V.1.8.2 update, so it has actually been in the game for a very long time. The description of the Bush is "A portable bush disguise"  and is Legendary rarity. The Bush can only be found in Treasure Chests and Supply Drops and is a consumable item. It is a one-time use item that can be destroyed once the player wearing it takes any form of damage, including damage inflicted by the Storm.
When using the Bush, you can see the players legs when they are standing up, so to utilize the maximum effect for the bush camouflage, it's best for players to crouch when standing still. The camouflage of the bush will then lie flat on the ground and look completely normal and look like any other bush in Fortnite.
There are many members of the Fortnite community that feel like the Bush should be removed from the game but Reddit user whicketywack has thought of a concept that would remove the Bush from the loot drops, but can still be found in Fortnite.
They have suggested that the consumable Bush should be dotted around the Fortnite map in random locations and players will be able to consume the item as they can now, but it will just be found as floor loot around areas where there are bushes already in Fortnite. It will look like a normal bush, but only some of these normal bushes will be consumable and it will only be apparent they are consumable when having your cursor pointing at the bush.
The main idea is having the consumable Bush out of the Treasure Chests and Supply Drops, so freeing up a space for an item that more players would use. As there are bushes around the map already, it would be a good idea to make only some of these available for consumption for players that would still like to use the Bush as a camouflage.
Another suggestion for the Bushes is to make them into a Backpack item, where the bush would be carried on the back whilst the players are running and would only become camouflage when crouching. This was posted by Reddit user vabsen and can be found below: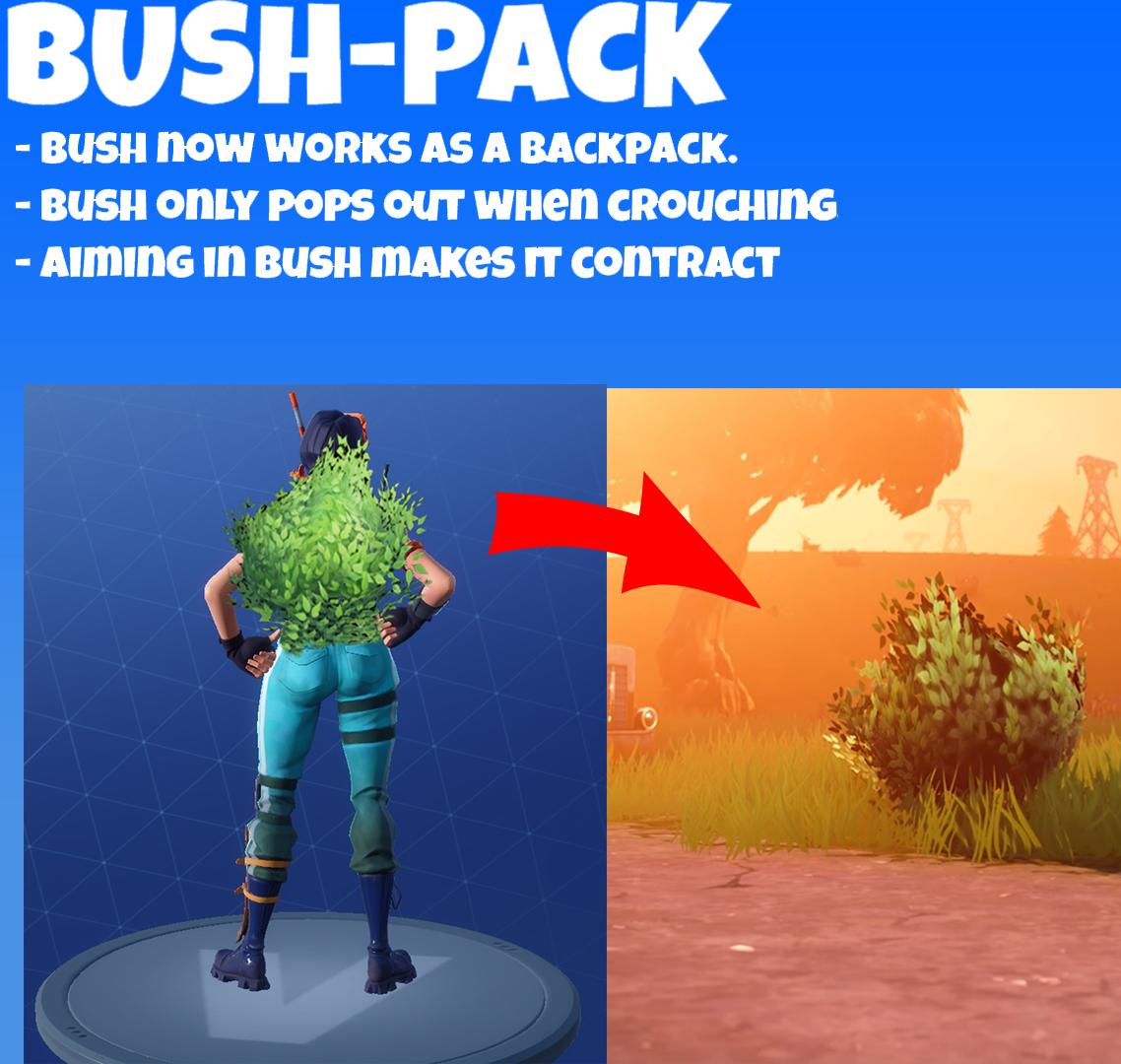 What would you prefer to see? The Bushes taken out of the loot drop or changed to a Backpack item. Let us know in the comments section below.