Reddit user _The_Paper_ has thought of a very interesting concept involving a train that connects Pleasant Park, Shifty Shafts, Fatal Fields and the Container Yard: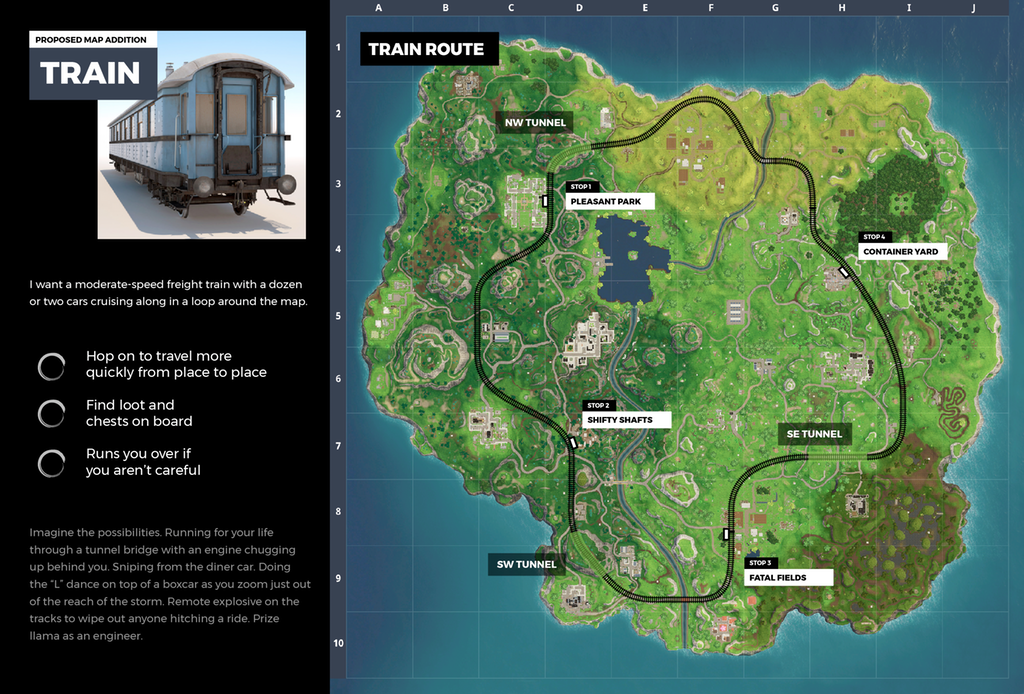 This concept would help players to travel quicker around the map and would offer more loot to players that decided to board the train. Players would need to be careful when going across the train tracks as the train would have the ability to kill players if they got in the way.
The user has also added, "Imagine the possibilities. Running for your life through a tunnel bridge with an engine chugging up behind you. Sniping from the diner car. Doing the 'L' dance on top of a boxcar as you zoom in and out of the storm. Remote explosives on the tracks to wipe out anyone hitching a ride. Prize llama as an engineer."
Epic have stated previously that they do not want to add vehicles to this map as it is small a easy for players to run out the storm in time. However, as the train will be on one loop around the map, it could still be considered as players would not have control on how fast the train travels and would only be traveling on one circuit.
This is definitely a unique concept and we think it would make a great addition to Fortnite Battle Royale.