Epic Games introduced Fortnite challenges in Season 3 of the Battle Pass with new, fresh challenges being released each week. These Fortnite challenges provide players with a way to level up their Battle Pass tiers quicker. Fortnite challenges are also a good way to reward players to land at different points of interest as many players usually land in the same locations in every game, with specific weekly challenges focusing on a range of different things such as elimiating opponents in specific locations, following a treasure map to get a Battle star, or finding hidden objects in-game such as gnomes.
Each week there are seven new challenges to complete which range in difficulty, and when 4 of the 7 weekly Fortnite challenges have been completed, players will be rewarded with 4,000 XP. Completing each challenge will grant a player 5 Battle Stars for completing the normal difficulty challenges and 10 Battle Stars for completing the hard challenges. All of the challenges will remain active until the season ends, so players can complete the challenges at any time, as long as it's before the season end. This means that even the players who purchase the Battle Pass late can still complete challenges from the previous weeks.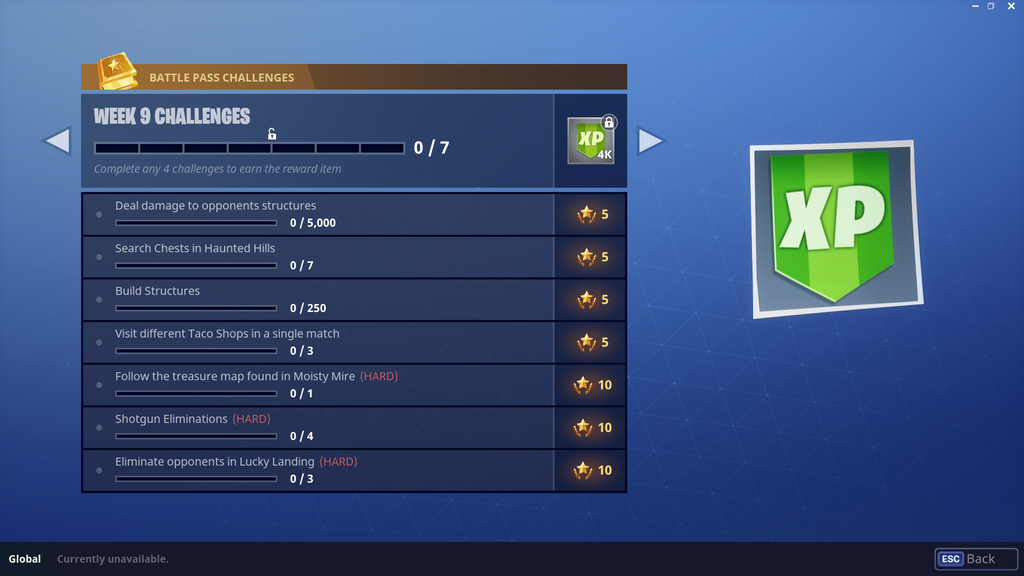 Below you'll find a complete list of every single weekly challenge (as of 22/04/2018) that has been rolled out by Epic so far with links to the guides we've created to help you complete these challenges as fast as possible.
We'll keep this article updated with the latest Fortnite weekly challenges, as well as providing you with guides, tips and cheat sheets on how to complete the newly released challenges.
Week 1 Fortnite Challenges:
Deal damage with Pistols to opponents (500)
Search chests in Pleasant Park (7)
Revive Players (5)
Visit a Llama, Fox, and a Crab (3)
Follow the treasure map found in Dusty Depot (HARD)
Sniper Rifle Eliminations (2) (HARD)
Eliminate opponents in Fatal Fields (3) (HARD)
Week  2 Fortnite challenges:
Use a Launchpad (1)
Deal damage with Assault Rifles to opponents (1,000)
Search Chests in Wailing Woods (7)
Dance in different forbidden locations (5)
Search between a Pool, Windmill, and an Umbrella (1) (HARD)
SMG Eliminations (3) (HARD)
Eliminate opponents in Greasy Grove (3) (HARD)
Week  3 Fortnite challenges:
Harvest building resources with a pickaxe (3,000)
Deal damage with Supressed Weapons to opponents (500)
Search Chests in Junk Junction (7)
Land of different Bullseyes (7)
Follow the treasure map found in Snobby Shores (1) (HARD)
Crossbow Elimiations (2) (HARD)
Eliminate opponents in Salty Springs (3) (HARD)
Week 4 Fortnite Challenges:
Deal damage with Sniper Rifles to opponents (500)
Search Chests in Flush Factory (7)
Search Supply Drops (3)
Visit different Ice Cream Trucks (5)
Search between a Vehicle Tower, Rock Sculpture, and a Cricle of Hedges (1) (HARD)
Trap Elimiations (1) (HARD)
Eliminate opponents in Tomato Town (3) (HARD)
Week 5 Fortnite Challenges:
Use the Bush (1)
Search Chests in Moisty Mire (7)
Deal damage with a pickaxe to opponents (200)
Visit different Gas Stations in a single match (3)
Follow the treasure map found in Anarchy Acres (1) (HARD)
Pistol Eliminations (3) (HARD)
Eliminate opponents in Titled Towers (3) (HARD)
Week 6 Fortnite Challenges:
Deal damage with SMGS to opponents (500)
Search Chests in Anarchy Acres (7)
Place a Cozy Campfire (1)
Summit different Mountains Peaks (10)
Search between a Metal Bridge, Three Billboards and a Crashed Bus (HARD) (1)
Explosive Weapon Eliminations (HARD) (3)
Eliminate opponents in Retail Row (HARD) (3)
Week 7 Fortnite Challenges:
Search Chests in Lonely Lodge (7)
Deal damage with Shotguns to opponents (1000)
Search a Chest, Ammo Box & Supply Drop in a single match (3)
Search the Hidden Gnome in different Named Locations (7)
Follow the Treasure map found in Retail Row (HARD) (1)
Suppressed Weapon eliminations (HARD) (3)
Eliminate opponents in Shifty Shafts (HARD) (3)
Week 8 Fortnite Challenges:
Use a Vending Machine (1)
Deal damage with Explosive Weapons to opponents (500)
Search Chests in Snobby Shores (7)
Dance on different Dance Floors (3)
Search between Three Boats (HARD) (1)
Assault Rifle Eliminations (HARD) (5)
Eliminate opponents in Dusty Depot (HARD) (3)
Week 9 Fortnite Challenges:
Deal damage to opponents structures (5000)
Search Chests in Haunted Hills (7)
Build Structures (250)
Visit different Taco Shops in a single match (3)
Follow the treasure map found in Moisty Mire (3)
Shotgun Eliminations (HARD) (4)
Eliminate opponents in Lucky Landing (HARD) (3)
Week 10 Fortnite Challenges:
Search Chests in Fatal Fields (7)
Deal headshot damage to opponents (250)
Search a Chest in different named locations (12)
Skydive through Floating Rings (10)
Search between a Stone Circle, Wooden Bridge, and a Red RV (HARD) (1)
Eliminate Opponents (HARD) (10)
Eliminate opponents in Pleasant Park (HARD) (3)