Epic had announced that there would be a one-time only event, taking place in Fortnite on November 4th 2018 at 1pm ET (6pm UTC). You can see when the event will occur in your timezone at the end of the article. This will be the end of the Fortnitemares event, so make sure you finish the Fortnitemare Challenges by then to unlock the Dark Engine Glider. Data-miners have been looking at the files and have established that this event is called the 'Butterfly' Event. Here are the Butterfly images that have been found by  @FortTory: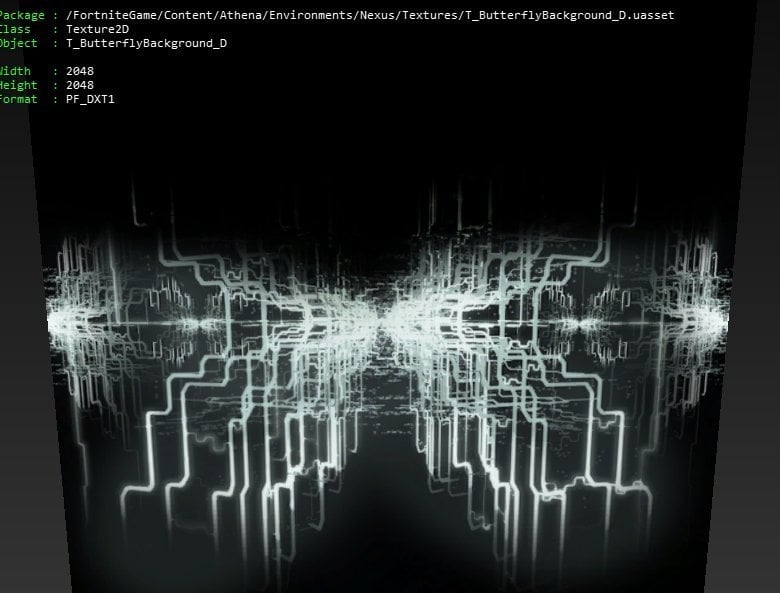 This is a one-time only event, so you will need to get into a match to see what happens. Some players have been asking if they will be able to witness the event in the Playground LTM. It has been confirmed by Epic employees that you will not be able to see the event in the Playground LTM, so there is a risk that other players could kill you when the event is happening.
According to PlayStation, the event will last five minutes, as you can see below:
We know that the event will change the map, specifically the Lake, as this has been leaked by data-miners previously.
It's interesting to see how far this story has progessed, seeing as it had started from the meteor that crashed into Dusty Depot (Dusty Divot). Here are all the timezones for the 'Butterfly' event below:
Afghanistan – Kabul Sun 22:30
Algeria – Algiers Sun 19:00
Argentina – Buenos Aires Sun 15:00
Australia – Australian Capital Territory – Canberra Mon 05:00
Australia – New South Wales – Sydney *Mon 05:00
Australia – Northern Territory – Darwin Mon 03:30
Australia – Queensland – Brisbane Mon 04:00
Australia – South Australia – Adelaide *Mon 04:30
Australia – Victoria – Melbourne *Mon 05:00
Australia – Western Australia – Perth Mon 02:00
Austria – Vienna – Vienna Sun 19:00
Bahamas – Nassau Sun 13:00
Bangladesh – Dhaka Mon 00:00
Belarus – Minsk Sun 21:00
Belgium – Brussels – Brussels Sun 19:00
Bolivia – La Paz Sun 14:00
Brazil – Distrito Federal – Brasilia *Sun 16:00
Brazil – Rio de Janeiro – Rio de Janeiro *Sun 16:00
Brazil – São Paulo – São Paulo *Sun 16:00
Bulgaria – Sofia Sun 20:00
Canada – Alberta – Calgary Sun 11:00
Canada – Alberta – Edmonton Sun 11:00
Canada – British Columbia – Vancouver Sun 10:00
Canada – Manitoba – Winnipeg Sun 12:00
Canada – Newfoundland and Labrador – St. John's Sun 14:30
Canada – Nova Scotia – Halifax Sun 14:00
Canada – Ontario – Ottawa Sun 13:00
Canada – Ontario – Toronto Sun 13:00
Canada – Quebec – Montréal Sun 13:00
Chile – Santiago *Sun 15:00
China – Beijing Municipality – Beijing Mon 02:00
China – Shanghai Municipality – Shanghai Mon 02:00
Colombia – Bogota Sun 13:00
Congo Dem. Rep. – Kinshasa Sun 19:00
Croatia – Zagreb Sun 19:00
Cuba – Havana Sun 13:00
Czech Republic – Prague Sun 19:00
Denmark – Copenhagen Sun 19:00
Dominican Republic – Santo Domingo Sun 14:00
Egypt – Cairo Sun 20:00
El Salvador – San Salvador Sun 12:00
Estonia – Tallinn Sun 20:00
Ethiopia – Addis Ababa Sun 21:00
Fiji – Suva *Mon 07:00
Finland – Helsinki Sun 20:00
France – Île-de-France – Paris Sun 19:00
Germany – Berlin – Berlin Sun 19:00
Germany – Hesse – Frankfurt Sun 19:00
Ghana – Accra Sun 18:00
Greece – Athens Sun 20:00
Guatemala – Guatemala City Sun 12:00
Honduras – Tegucigalpa Sun 12:00
Hong Kong – Hong Kong Mon 02:00
Hungary – BudapestSun 19:00
Iceland – Reykjavik Sun 18:00
India – Delhi – New Delhi Sun 23:30
India – Karnataka – Bangalore Sun 23:30
India – Maharashtra – Mumbai Sun 23:30
India – West Bengal – Kolkata Sun 23:30
Indonesia – Jakarta Special Capital Region – Jakarta Mon 01:00
Iran – Tehran Sun 21:30
Iraq – Baghdad Sun 21:00
Ireland – Dublin Sun 18:00
Israel – Jerusalem Sun 20:00
Italy – Rome Sun 19:00
Jamaica – Kingston Sun 13:00
Japan – Tokyo Mon 03:00
Jordan – Amman Sun 20:00
Kazakhstan – Almaty Mon 00:00
Kenya – Nairobi Sun 21:00
Kiribati – Christmas Island – Kiritimati Mon 08:00
Kuwait – Kuwait City Sun 21:00
Lebanon – Beirut Sun 20:00
Madagascar – Antananarivo Sun 21:00
Malaysia – Kuala Lumpur – Kuala Lumpur Mon 02:00
Mexico – Ciudad de México – Mexico City Sun 12:00
Morocco – Casablanca Sun 19:00
Myanmar – Yangon Mon 00:30
Nepal – Kathmandu Sun 23:45
Netherlands – Amsterdam Sun 19:00
New Zealand – Auckland *Mon 07:00
Nicaragua – Managua Sun 12:00
Nigeria – Lagos Sun 19:00
Norway – Oslo Sun 19:00
Pakistan – Islamabad Sun 23:00
Pakistan – Sindh – Karachi Sun 23:00
Pakistan – Lahore Sun 23:00
Paraguay – Asuncion *Sun 15:00
Peru – Lima – Lima Sun 13:00
Philippines – Manila Mon 02:00
Poland – Warsaw Sun 19:00
Portugal – Lisbon Sun 18:00
Puerto Rico – San Juan Sun 14:00
Qatar – Doha Sun 21:00
Romania – Bucharest Sun 20:00
Russia – Anadyr Mon 06:00
Russia – Moscow Sun 21:00
Saudi Arabia – Riyadh Sun 21:00
Serbia – Belgrade Sun 19:00
Singapore – Singapore Mon 02:00
South Africa – Cape Town Sun 20:00
South Africa – Johannesburg Sun 20:00
South Korea – Seoul Mon 03:00
Spain – Barcelona – Barcelona Sun 19:00
Spain – Madrid Sun 19:00
Sudan – Khartoum Sun 20:00
Sweden – Stockholm Sun 19:00
Switzerland – Zurich – Zürich Sun 19:00
Taiwan – Taipei Mon 02:00
Tanzania – Dar es Salaam Sun 21:00
Thailand – Bangkok Mon 01:00
Turkey – Ankara Sun 21:00
Turkey – Istanbul Sun 21:00
Ukraine – Kyiv Sun 20:00
United Arab Emirates – Dubai – Dubai Sun 22:00
United Kingdom – England – London Sun 18:00
Uruguay – Montevideo Sun 15:00
USA – Alaska – Anchorage Sun 09:00
USA – Arizona – Phoenix Sun 11:00
USA – California – Los Angeles Sun 10:00
USA – California – San Francisco Sun 10:00
USA – Colorado – Denver Sun 11:00
USA – District of Columbia – Washington DC Sun 13:00
USA – Florida – Miami Sun 13:00
USA – Georgia – Atlanta Sun 13:00
USA – Hawaii – Honolulu Sun 08:00
USA – Illinois – Chicago Sun 12:00
USA – Indiana – Indianapolis Sun 13:00
USA – Louisiana – New Orleans Sun 12:00
USA – Massachusetts – Boston Sun 13:00
USA – Michigan – Detroit Sun 13:00
USA – Minnesota – Minneapolis Sun 12:00
USA – Nevada – Las Vegas Sun 10:00
USA – New York – New York Sun 13:00
USA – Pennsylvania – Philadelphia Sun 13:00
USA – Texas – Dallas Sun 12:00
USA – Texas – Houston Sun 12:00
USA – Utah – Salt Lake City Sun 11:00
USA – Washington – Seattle Sun 10:00
Uzbekistan – Tashkent Sun 23:00
Venezuela – Caracas Sun 14:00
Vietnam – Hanoi Mon 01:00
Zimbabwe – Harare Sun 20:00