Treasure Chests can be found all over Fortnite and players can interact with them to receive material, weapons, consumables and/or trap items. These items are completely random and the items received from chests can range in rarity, from common (grey) to legendary (gold). There are certain places on the Fortnite Map where the chests can spawn, but it is not guaranteed that they will spawn in each location in every game. Treasure Chests give off a distinct sound to alert players when they are near a chest and it also glows when it has not been looted.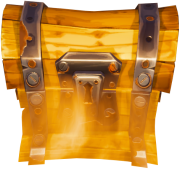 Check out this color coded Health Bar Concept that should be added to Fortnite
Treasure Chests are most useful at the start of the game, where players need to get weapons and materials quick to engage in fights with enemies, however when finding them near the end of the game, they aren't as useful, as players would hopefully have a decent loadout at this point. The Treasure Chests are therefore virtually useless at the end of the game and so Reddit user DanS808 has thought of a concept to make Treasure Chests more useful. Dan has suggested that players should be able to break unlooted chests to receive 250 wood.
Material is essential to survive in Fortnite, especially at the end of the game, so getting material would be more beneficial to players than the contents of the Treasure Chests. However, instead of only being able to receive wood from the breaking an unlooted chest, it may be better for players to receive 250 of any random material as they are essentially giving up the contents of the chests to receive material.
Let us know what you think about this concept in the comments section below or what other suggestions would work for breaking Treasure Chests to receive other items.