Here are all of the Week 4 challenges you can now complete for Fortnite Chapter 2, Season 4.
Every week in Fortnite Battle Royale, seven new challenges are released. Six of these challenges are the normal solo challenges which grants players 25,000 XP upon completion and the last challenge is a team challenge which grants 50,000 XP. Completing these challenges will help you to level up in the Season 4 Battle Pass.
The challenges for Week 4 are now live and can be completed in the game and you can see which challenges you need to complete below.
Fortnite Season 4 Week 4 Challenges
Here are all of the seven challenges you can complete for Week 4 of Fortnite:
Search Chests at Slurpy Swamp (7)
Eliminations at Weeping Woods (3)
Deal damage within 10 seconds of bouncing off an umbrella at Sweaty Sands (100)
Destroy Gatherers (20)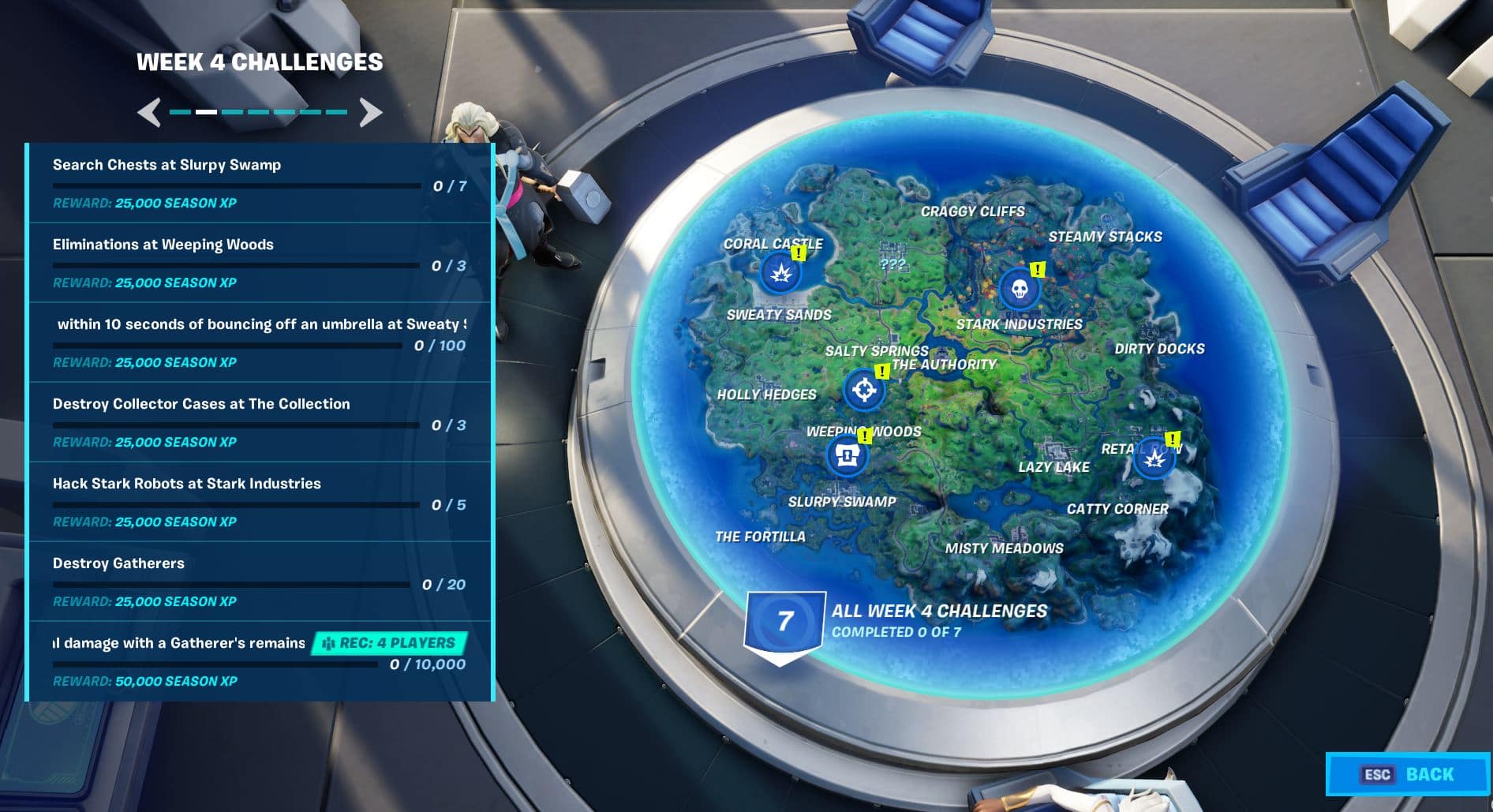 The search chests at Slurpy Swamp and eliminations at Weeping Woods challenges are fairly easy challenges to complete. To deal damage within 10 seconds of bouncing of an umbrella at Sweaty Sands should also be easy to complete as other players will be trying to complete these challenges at the same time.
We have made guides on how to complete the challenges that are slightly harder and you can see these by clicking on the highlighted challenges above. The deal damage with Gatherer's remains challenge is a team challenge that can be completed by up to 4 players, but you can complete it yourself. We would recommend completing it with your friends to finish it faster, but it can be done solo.
In addition to these weekly challenges, you can complete a new Wolverine Challenge every week as well. The Wolverine challenge for Week 4 is to launch off all sentinel hands without touching the ground and you can see how to do this by clicking here. Completing the Wolverine challenges rewards you with different cosmetics and this weeks reward is the Ferocious Wrap.