Season 7 is finally here and with it we have a number of changes to the map including a new biome, several new POIs and ziplines dotted around the map. The Season 7, Week 1 challenges went live as soon as the servers were back online and thanks to The Squating Dog, we have a cheat sheet to help you complete all of the week 1 challenges much quicker:
Season 7, Week 1 Cheat Sheet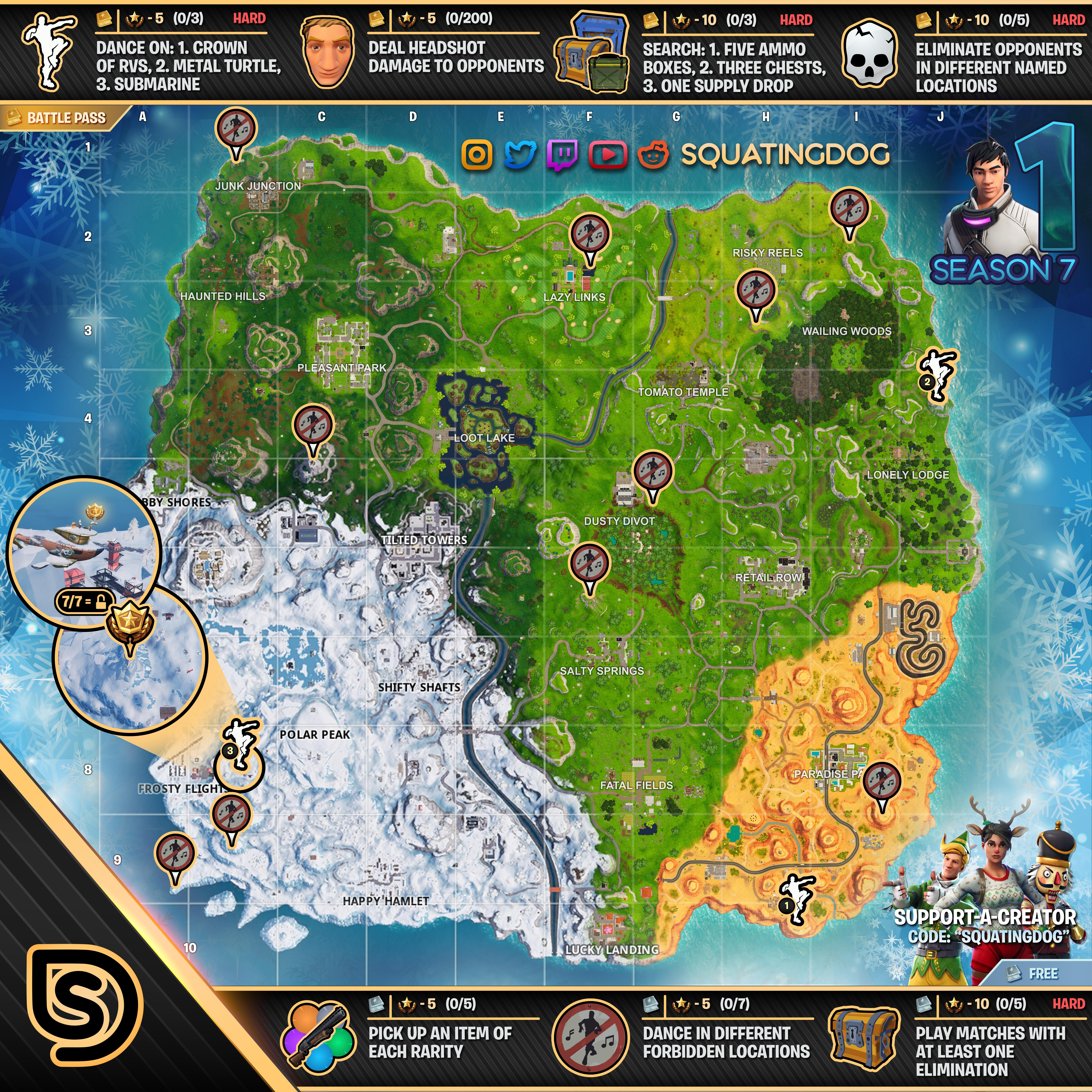 Free Pass Challenges
Pick up an item of each rarity (5)
Dance in different forbidden locations (7)
Play matches with at least one elimination (HARD)(5)
Battle Pass Challenges
Stage 1: Dance on top of a crown of RV's (1)
Deal Headshot Damage to opponents (500)
Stage 1: Search Ammo Boxes in a single match (HARD)(5)
Eliminate opponents in different Named Locations (HARD)(5)
The cheat sheet has all of the forbidden locations. Players will need to dance at 7 different forbidden locations in order to complete the challenge. Also marked on the cheat sheet are the locations of the objects you need to dance on. The first stage is to dance on top of a crown on RV's, stage 2 players need to dance on a metal turtle, and finally on a submarine.
Last season players could complete Hunting Party Challenges which rewarded players with a banner or Battle Star. In Season 7, the Hunting Party challenges have been replaced with the Snowfall challenges and the location for the first Snowfall Battle Star has been highlighted. In order to see the Battle Star, players will need to complete all of the challenges in week 1.