The Fortnite Season 3 map has been leaked online and includes some interesting updates.
Fortnite season 2 is over and the servers are down for scheduled maintenance to prepare for Fortnite season 3. So far, we've seen the Fortnite Battle Pass overview video and the cinematic trailer released.
With every major Fortnite update, especially a brand new season, there's a lot of new content added to the files, some of which is scheduled for a later release. Data-miners look through the files during downtime and leak what they can.
As of writing, dataminers are leaking new Fortnite skins and other cosmetics that'll be released in the future. New weapons and other items that have been added in the new season have also been leaked.
The full map for Fortnite season 3 has also been leaked. Although we currently have no images of the new locations that have been added, but lets take a look at the overview.
Fortnite Season 3 Map
Every new Fortnite season brings a host of map changes. There's always at least one new POI added to the map, and season 3 is no different. The leaked map shows that there's a number of locations that have survived including Pleasant Park, Salty Springs, Frenzy Farm, Retail Row, Lazy Lake, Holly Hedges, Sweaty Sands, Lazy Lake, and Misty Meadows.
The map has changed considerably due to the flooding. There's definitely less of the map to land on in comparison to the first two seasons of chapter 2. There's new named locations on the map including The Fortilla, Rickety Rig, The Authority, and Catty Corner.
Here's a look at the Fortnite season 3 map: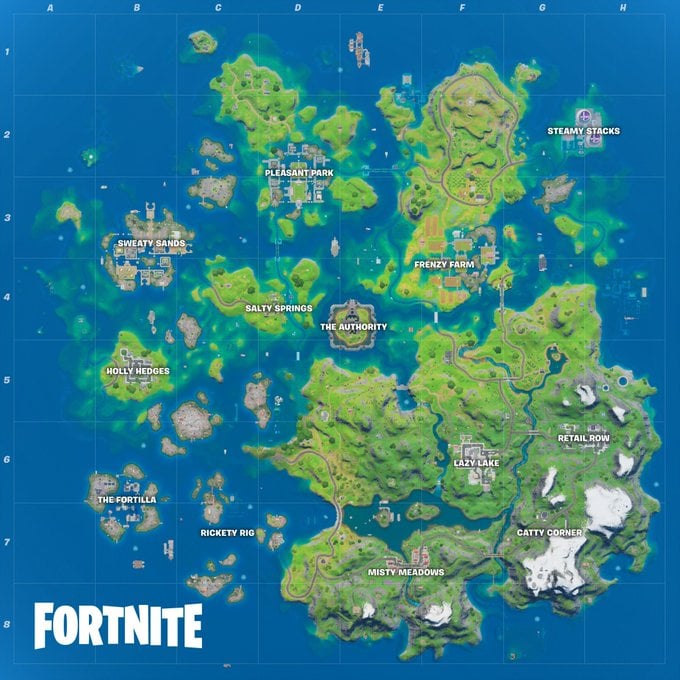 It'll be interesting to see how this season plays out with so many locations surrounded completely by water and far less land to loot.
For a more in-depth look at the map changes made at the start of this season, click here.
What are your thoughts on the new map for season 3? Let us know in the comments section below!