To keep Fortnite Battle Royale new and exciting, Epic add different Limited Time Modes to change the normal Battle Royale mode. This can change the pace of the game and help players to become more comfortable with different weapons. LTM's are constantly switched around and some have made a comeback with improvements suggested by the Fortnite community.
Reddit user FLcitizen has suggested a Moonlight LTM, which is similar to the Light's Out LTM we have covered previously, but has gone into more detail as to how this could be incorporated to Fortnite.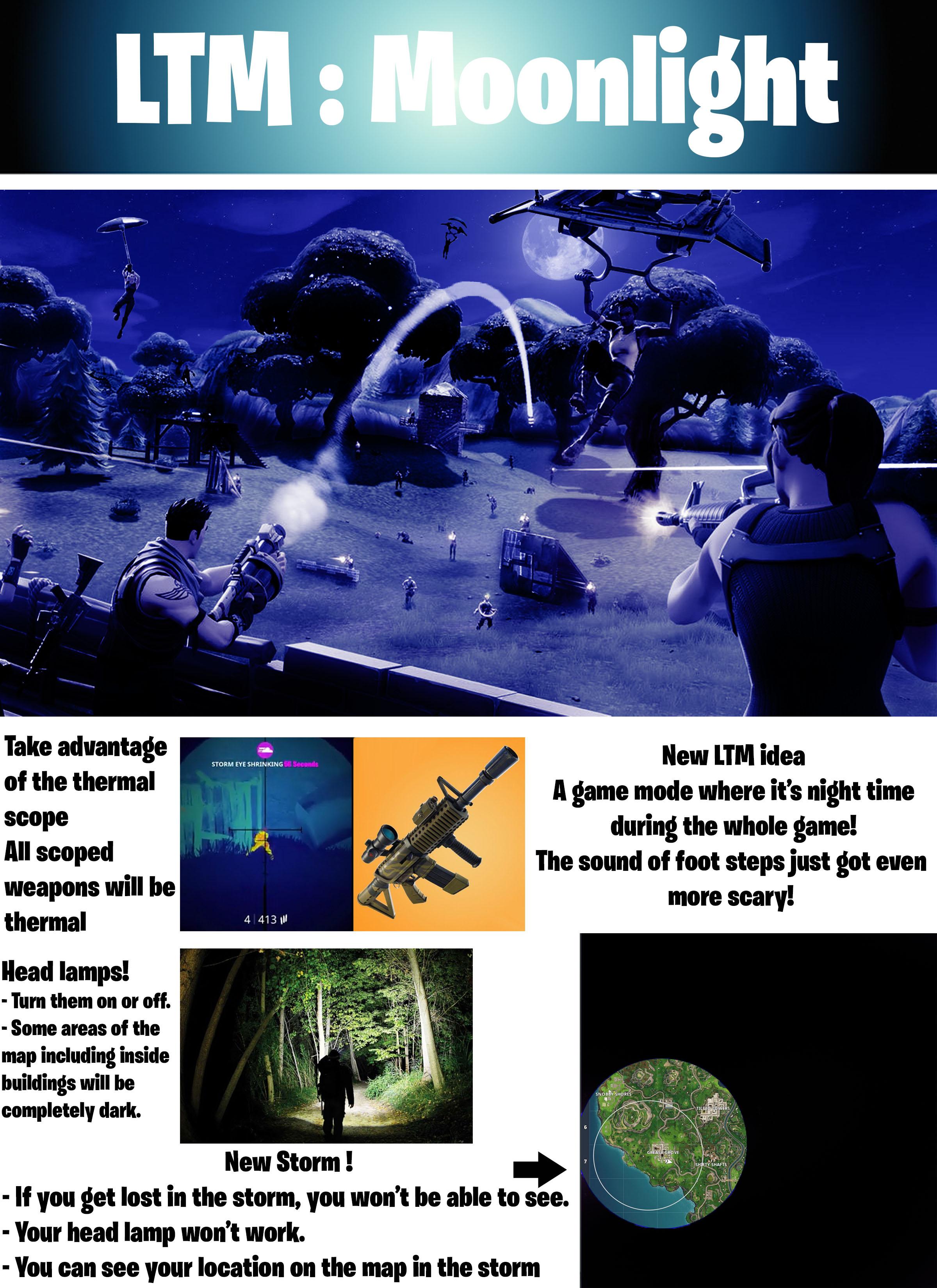 "A game mode where it's night time during the whole game! The sound of footsteps just got even scarier!"
There will be different features to this game mode:
All scoped weapons will be thermal – At the moment, the only weapon that is thermal is the Scoped Assault Rifle, which has been added to Fortnite Battle Royale quite recently. The other Scoped weapons in the game at the moment are the Bolt-Action Sniper Rifle and the Semi-Auto Sniper Rifle, which currently have no thermal attachment.
Head Lamps – players will be able to turn these on/off and will be necessary as some areas of the map will be pitch black, even in buildings. The Head Lamps will light up an area around the players so they will be able to navigate around the map.
The map will also be black, except for the area in which players are located. You will only be able to see the storm circle if it is close on the map.
It has also been suggested that the head lamps will stop working if players are lost to the storm, but you will still be able to see your position on the map.
This is a very different LTM from what we've seen in the past in Fortnite Battle Royale and it will definitely change the gameplay for players. We will not be seeing a lot of building in this game mode and players will need to think more strategically to survive. Players will need to loot quickly and avoid getting caught in the storm, as they would not be able to see when the head lamps go out.