The Season 7, Week 2 Fortnite Challenges have been leaked.
Epic released v7.01 yesterday which introduced the Infinity Blade, a weapon which is considered as "OP" by the majority of the community. The update didn't contain many news files, so there wasn't much that was leaked. One leak that did surface was the possibility of Thanos making a return to Fortnite as the "carmine" LTM files were updated. The challenges for Season 7, Week 2 that were found in the v7.00 update didn't change, and you can view the leaked challenges below thanks to Tapohi:
Fortnite Challenges Season 7, Week 2 Leaked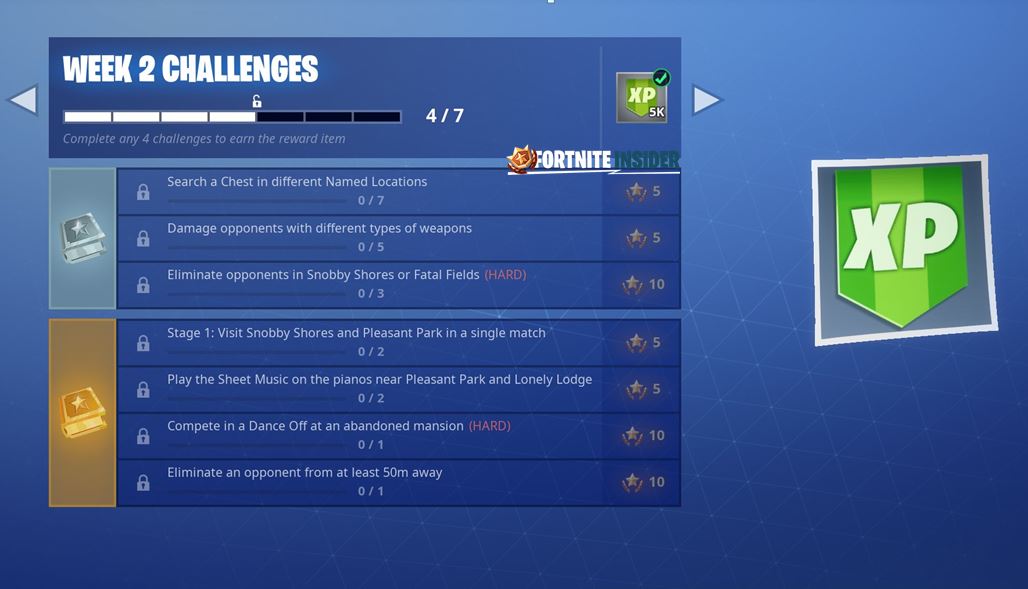 Free Pass Challenges
Search a Chest in different Named Locations (7)
Damage opponents with different types of weapons (5)
Eliminate opponents in Snobby Shores or Fatal Fields (3)(HARD)
Battle Pass Challenges
Stage 1: Visit Snobby Shores and Pleasant Park in a single match (2)
Play the Sheet Music on pianos near Pleasant Park and Lonely Lodge (2)
Compete in a Dance Off at an abandoned mansion (1)(HARD)
Eliminate an opponent from at least 50m away (1)
The majority of the Fortnite challenges for Season 7, Week 2 are self-explanatory. Searching chests in different named locations is easy and you can could probably get this done within a couple of games if you stay alive long enough. Other challenges such as damaging opponents with different weapon types and eliminating players in Snobby or Fatal Fields are also straightforward, however, it might be a little difficult to get the eliminations in Snobby within the first couple of hours due to their being two challenges to complete at that location. You'll probably find a considerable amount of people trying to land there so it's probably best to wait to complete that challenge.
The "compete in a Dance Off at an abdonded mansion" is a new challenge. In Season 7, the heroes mansion received a small update. The basement of the mansion was updated to include a disco room with a scoreboard. It's likely this is the location you'll need to visit in order to complete the challenges, and you'll probably need a teammate or an opponent with you to complete the challenge.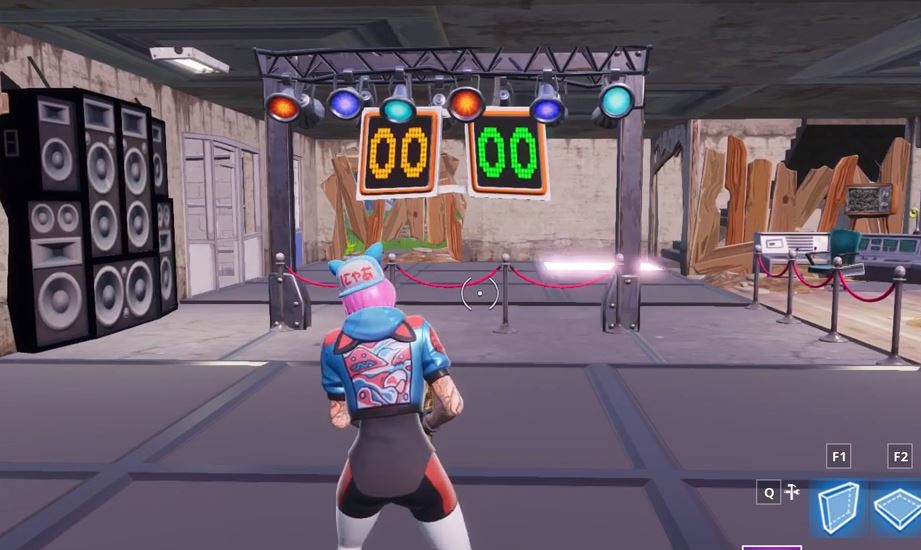 In Season 6, there was a challenge to find and play the Sheet Music found in near Pleasant Park and Retail Row. In the Season 7, Week 2 challenges, players will instead need to play the Sheet Music on a piano found near Pleasant Park and Lonely Lodge.
As with all leaks, they are subject to change. These challenges have not yet been confirmed, but are likely going to be the week 2 challenges. We'll have the official challenges posted, as well as a cheat sheet and other guides to help you complete the challenges for week 2 and quickly as possible.