Here's a cheat sheet for opening all the Fortnite Winterfest Christmas presents.
It's day 5 of the Fortnite Winterfest Christmas event and players have been able to open a new present each day. Players have also been able to receive additional cosmetics by completing the daily Winterfest challenges that are released at 2pm UTC each day with players having to search the holiday stocking in the Winterfest Cabin/Lodge in order to see the challenge.
There's enough data for players to come up with a cheat sheet for all the Fortnite Winterfest presents. The cheat sheet gives players a far greater chance of opening the present that will give them the cosmetic that they're after. Before we get into that, let's take a look at all the Fortnite presents.
All Fortnite Presents
Here's a list of every cosmetic in the Fortnite presents:
Ornament Soldier Skin
Woolly Mammoth Skin
Treefall Glider
Millennium Falcon Glider
Shortbread Slicers Pickaxe
Peppermint Pick Pickaxe
New Year 2020 Wrap
Well Wrapped Wrap
Snow Shaker Emote
The Sith Back Bling
Holly and Divey Contrail
Merry Chipmas Music Pack
The Great Crackup Loading Screen
Merry Beatmas Loading Screen
The time you can open the Fortnite presents are at 2pm UTC if you open them as soon as the new day of Winterfest goes live.
Christmas Winterfest Cheat Sheet
Here's a cheat sheet that will give you a 50% chance of getting the cosmetic you want from the Fortnite Winterfest presents. To use the cheat sheet, simply look at the colour of the present and the ribbon and compare it to what you have in your cabin.
If you're still uncertain after seeing the cheat sheet for the Winterfest presents below, you can check out some of our dedicated guides on getting the cosmetics you want: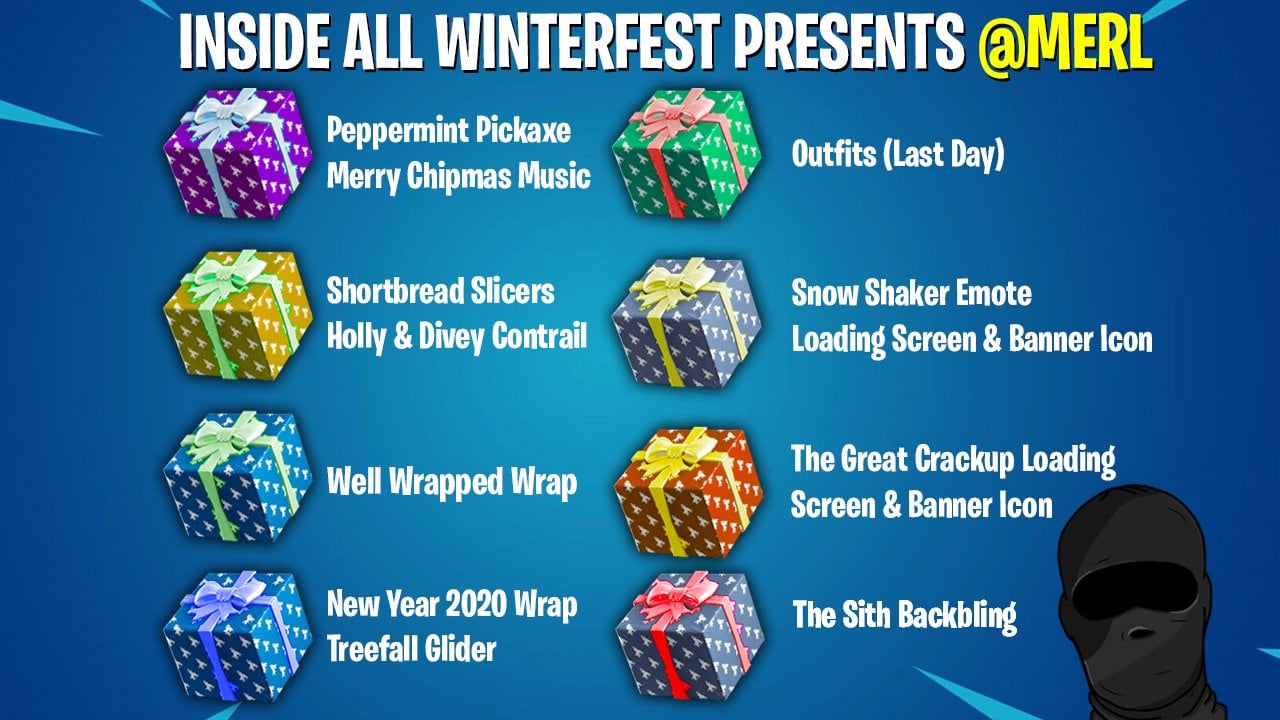 UPDATE: The free Fortnite Tree LT. EVERGREEN skin is available today. Click here to find out how to get it.
If that cheat sheet guide is confusing, here's another one: