Epic Games have announced that the next Fortnite update, v12.20, will be releasing tomorrow.
Epic Games are continuing on from the chapter 2 season 1 update schedule with a Fortnite update every two weeks. Prior to chapter 2, Epic would release a major update followed by a content update, but this is no longer the case and it's likely Epic will stick to the biweekly patch updates instead.
Epic have announced that the next Fortnite update, v12.20, will be releasing tomorrow, but it'll release an hour earlier than they've been releasing in the past few months. Here's everything we know about the v12.20 Fortnite update along with some early patch notes, possible leaks, how long the Fortnite servers will be down for and more.
Fortnite Update
Update: Below you can click on and view the leaks and news from today's update:
How long will the Fortnite servers be down for?
Whenever there's a major update, players always want to know how long the Fortnite servers will be down for and when they'll be back up. For major updates like this one, the servers are usually down for roughly two hours.
The servers will go down for maintenance an hour earlier tomorrow at 8am UTC (4am ET). That means they'll likely be back up at 10am UTC.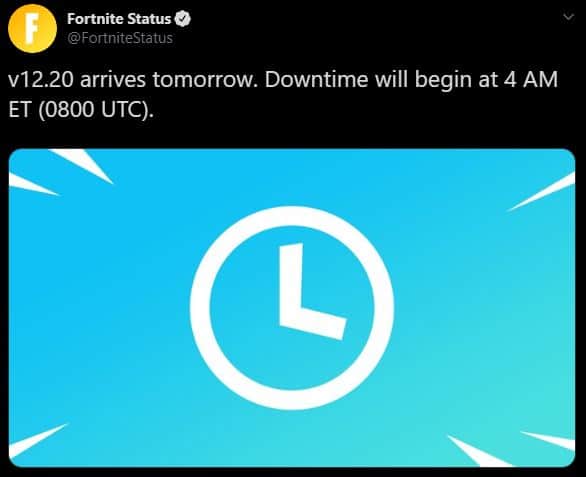 Fortnite Patch Notes
As with all major Fortnite updates, this update will include a number of bug fixes. Thanks to the Fortnite Trello board, we know what the majority of the bug fixes in the v12.20 update will be.
Players markers being placed too far away.
Players getting stuck inside Porta Potty objects.
Being unable to place a trap down when the trap icon hasn't finished loading.
Some building and structures around the map appearing in low detail.
Players being unable to resume Auto-Sprint once stopping.
Locker missing vault banner.
At the end of a match, players are unable to use the navigation buttons (returning to lobby, going to the item shop, or being able to report a player).
Epic Games no longer release the official Fortnite Patch notes after updates, something which they began doing with the launch of chapter 2 season 1. However, they began releasing Fortnite patch notes after updates, but it didn't cover all the changes or adjustments that were made in the update.
Epic didn't post official patch notes on their blog nor did they post patch notes for the v12.10 update. There likely won't be any posted tomorrow either but we'll be writing and posting our own tomorrow, so keep an eye out for it.
Helicopters
In the last update, Epic Games added several new helipads around the Fortnite map which adds to the existing helipads Epic added at the very start of the season. With Warzone releasing last week with the game having helicopters and other vehicles with the launch of the new Battle Royale game, this could be the perfect time for Epic to introduce helicopters into Fortnite.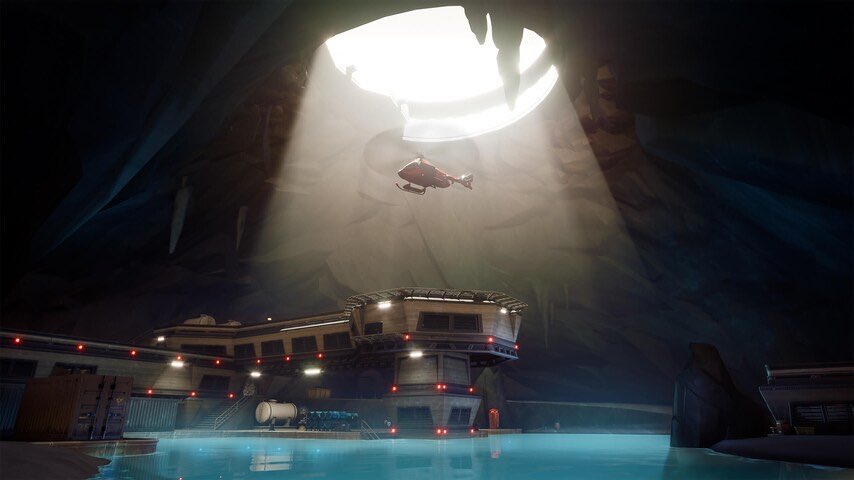 There were leaks that Helicopters would be coming to Fortnite soon with the amount of HP of helicopters being leaked (1,500) amongst other small details. It would definitely be a nice addition especially with there being no weapons on board.
Fortnite Leaks
As with any major Fortnite update, we'll see a number of leaks tomorrow. We know for a fact that we'll see new Fortnite skins and other cosmetics leaked. We also know that the week 5 and week 6 challenges will be leaked for the next Battle Pass agent, and we'll also get the Deadpool week 5 and week 6 leaked challenges.
There's a chance we could get leaks for things that we aren't aware of yet, but we'll have to wait and see. Be sure to turn on website notifications so you don't miss any of the leaks from tomorrow's v12.20 update!