Epic released another update for Fortnite Battle Royale yesterday, v6.31, which required a download. The update added a new weapon to the game, an epic and legendary variant of the Pump Shotgun, as well a new LTM called Team Rumble. Gifting, one of the most eagerly awaited features, went live yesterday as part of the v6.31 update. Epic also added some new files into the game that included new leaked Fortnite skins and cosmetics, the new hunting party loading screen and some other files that suggests Tilted Towers will be destroyed. We also got confirmation of the final week of challenges, which has now been leaked by data-miners and can be viewed below: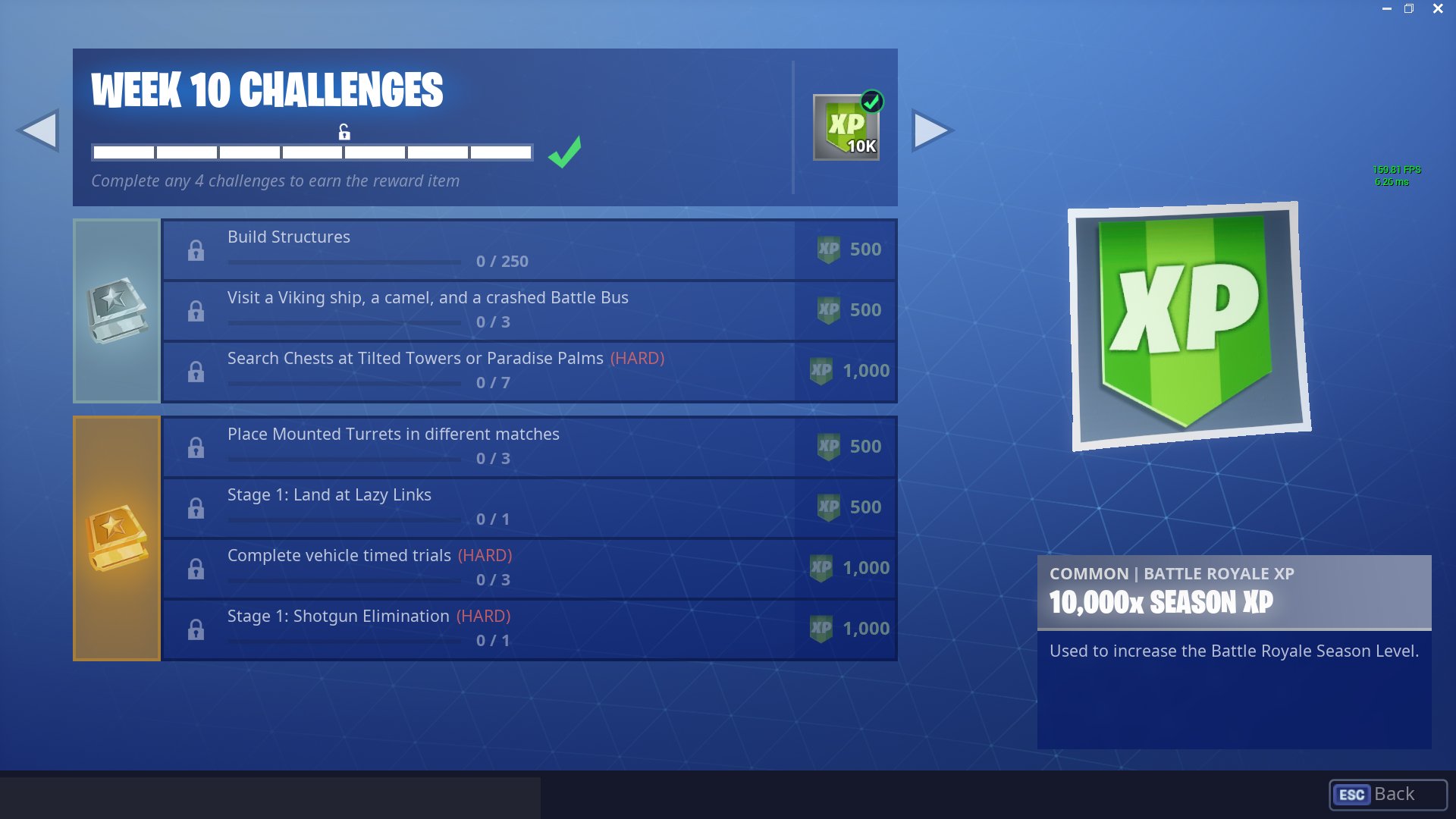 Fortnite Leak: Season 6, Week 10 Challenges
Free Pass Challenges
Build Structures (250)
Visit a Viking ship, a camel and a crashed Battle Bus (3)
Search Chests at Tilted Towers or Paradise Palms (7)(HARD)
Battle Pass Challenges
Place Mounted Turrets in different matches (3)
Stage 1: Land at Lazy Links (1)
Complete vehicle timed trials (3)(HARD)
Stage 1: Shotgun Elimination (1)(HARD)
Week 10 is the final set of challenges in Season 6 and completing 4 of the 7 challenges will grant players with 10,000 Season XP.
One of the challenges that could frustrate players is the "Place Mounted Turrets in different matches" as players feel as though the legendary trap item is too powerful. With a challenge to place a Mounted Turret in three different matches, you'll likely be seeing a lot of Turrets placed in a game, as well as likely being utilized. In v6.31, The Mounted Turret received several changes, including adjusting the collision volume to make it easier to land shots against anyone using the Turret, removing the ability to repair a Turret, and reducing the drop rate from 1.719% to 0.915%. Even after these changes, players are still unhappy with the item, and a challenge dedicated to the item will only incense players further.
The stages for the "Land at (location)" challenge begins with Lazy Links, then moves on to Snobby Shores, Lucky Landing, Lonely Lodge and Salty Springs. The stage challenge that begins with shotgun eliminations then moves on to an assault rifle and finally a pistol.
There's no information on where the locations will be for the "complete vehicle times trails" challenge, but we'll let you know as soon as the challenges are unlocked at 1pm UTC tomorrow.
The other challenges are quite straightforward, and everything will either be covered in a separate article or on a cheat sheet, so keep an eye out from them tomorrow!