Here's a list of all the items and weapons that have been vaulted in today's v11.00 Fortnite  update that introduced Chapter 2, Season 1.
Epic Games brought the Fortnite servers down for maintenance today at 5am ET without any announcement. During downtime, dataminers leaked the new Fortnite map, upcoming cosmetics, a new starter pack, new weapons, loading screens and more.
Patch notes are always published before or after server maintenance, however, today Epic have decided not to post them. We don't know what the stats are of the new shotgun, any hidden features added, performance updates and what items and weapons were vaulted from Chapter 1, Season 10.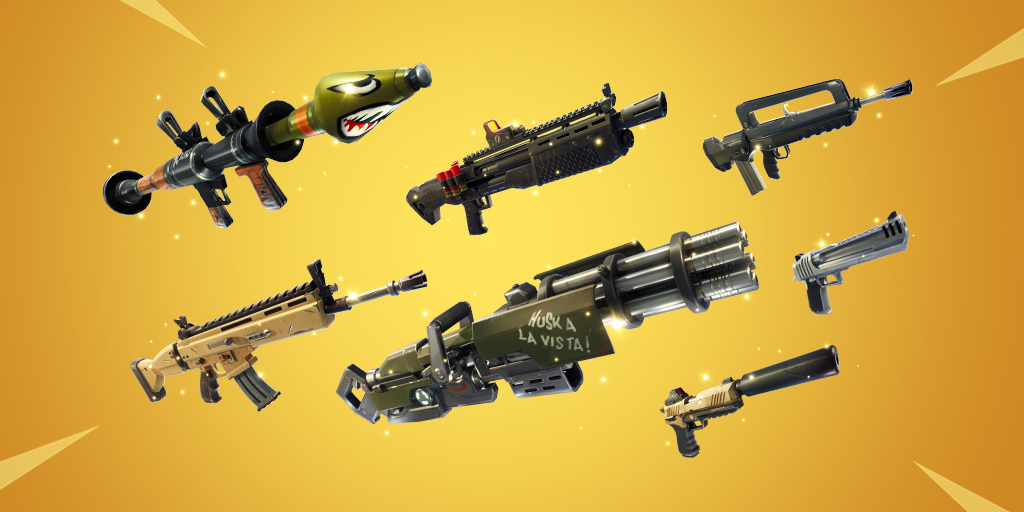 Thankfully, players have been keeping track of what items they've not found in the game and we now have a list of all the items and weapons that have been vaulted at the start this chapter.
Fortnite Chapter 2: Season 1 (Season 11) Vaulted Items & Weapons
Here's the list of all the vaulted items and weapons. Be warned, there's a lot that's been vaulted which means we could see a bunch of new weapons and items added during this 8 week season.
Auto Sniper Rifle
Batman Items
Bouncer
Chug Jug
Heavy Assault Rifle
Launch Pad
Shockwaves
Slurp Juice
Chug Splash
Mini Gun
Tactical SMG
Stinker Bomb
Boogie Bomb
Heavy Sniper Rifle
Infantry Rifle
Hoverboard
Suppressed Assault Rifle
Silenced SMG
Campfire (trap)
Shield Bubbles
Junk Rifts
Flink Knock Pistol
Revolver
Hand Cannon
Zapper Trap
With all these weapons and items vaulted, we're left with only a handful of items to use on the new map. With an 8 week season, it'll be interesting how many items and weapons we'll see added throughout the season.
If you'd like to check out all the news and leaks from today's update, be sure to head on over to the Fortnite Insider homepage!