The v11.30 Fortnite update time and date has now been announced. This is likely the Christmas update. We'll likely see leaks, patch notes and more from this update.
We've barely had any new content added to Fortnite Battle Royale, but Save the World players have seen more content this season than they've seen in previous seasons. Epic have only released the Harpoon Gun for Fortnite Battle Royale this season, but we'll likely be getting a lot more content soon.
In the blog post where Epic announced that Fortnite Chapter 2, Season  1 has been delayed, they stated they've got even more content for us to unwrap including new game features and rewards.
Not only that, but this week we'll be getting the Fortnite Star Wars event. That'll take place after the next Fortnite update.
UPDATE: Official & Unofficial v11.30 Fortnite Patch Notes CLICK HERE
UPDATE: Below are links to are leaked skins, challenges, loading screens and more!
Fortnite Update
Epic Games released a tweet on the Fortnite Status Twitter account stating that the next Fortnite update is the v11.30 patch. There's been no announcement or any update to the in-game news feed to announce the arrival of any new item or gun, but we should see plenty of content in this update.
There's a chance we could finally see the Heavy Assault Rifle and the Scoped Assault Rifle make a return to Fortnite.
The Heavy Assault Rifle received a new look that was leaked by dataminers in the v11.20 update along with some stat changes from chapter 1, but obviously is yet to be added to the game.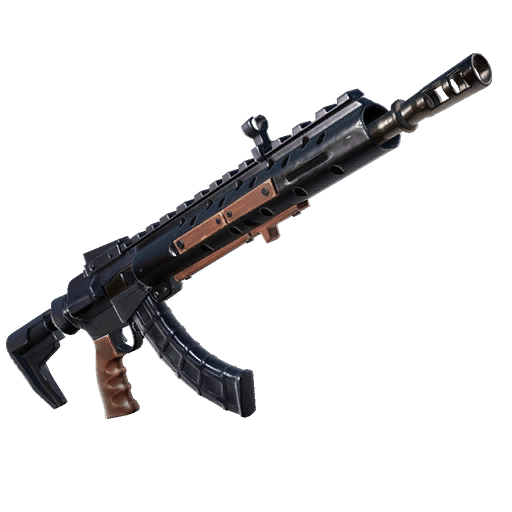 It wouldn't be surprising to see it added in this update to keep players happy after complaints there's been no next to no new content this season.
Fortnite Leaks
The last time we had leaks for Fortnite was three weeks ago from the v11.20 patch update. Dataminers leaked a new skin style for Lace, but players received that as soon as the Fortnite servers were back up.
We should see leaks from this Fortnite update that'll include new skins and other cosmetics, new challenges, new loading screens, and possibly more information on the Fortnite Christmas event, which will likely be 14 days of Fortnite.
In the case of Epic adding 14 days of Fortnite content in this update, we should see the challenges, rewards, and any Christmas themed decorations leak in the v11.30 Fortnite update.
Fortnite Status – Fortnite Server Downtime and when they'll be up
Epic Games stated the the Fortnite servers will go down for maintenance at 4 AM ET (9 AM UTC) for the v11.30 update.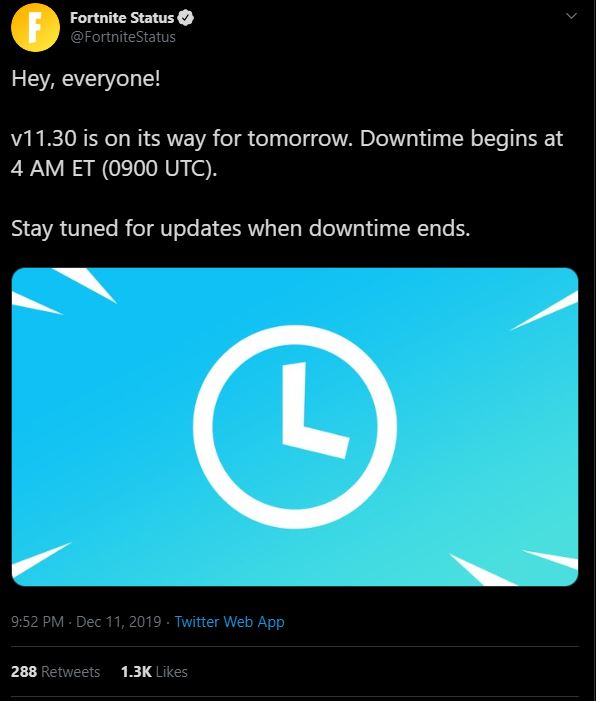 From previous Fortnite updates, we can assume that the servers will be down for at least two hours before they're back up. We'll keep you updated with the latest status of the servers.
Fortnite Patch Notes
As this is a major Fortnite update, and due to the fact Epic released Fortnite Patch Notes for the v11.20 update, it's safe to assume we will get patch notes for this update.
The v11.21 update last week was a small update that only addressed bug fixes. As this is probably going to be the biggest update before the new year, we should get patch notes after the Fortnite servers are back up.
We'll link the Fortnite patch notes as soon as they're posted by Epic.