The Fortnite Overtime Challenges for the 8-Ball Vs Scratch Skin are now available to complete and once completed, a new style variant will be awarded for this Skin.
A separate set of Missions for some of the Chapter 2:Season 1 Battle Pass Skins will be released in Fortnite Battle Royale instead of the Overtime Challenges for players to be able to earn a new Skin Style.
The first Mission to be released for the Overtime Challenges is the Remedy Vs. Toxin Skin and after the v11.40 update that was released earlier today, there are two new Missions that have been released. You can see the Rippley Vs. Sludge Mission Objectives by clicking here, and the 8-Ball Vs. Scratch Challenges below.
8-Ball Vs. Scratch Mission Challenges
Here are all of the challenges/objectives you will need to complete for the 8-Ball Vs. Scratch Mission:
Reach Battle Pass Tier 60 (60)
Complete '8-Ball Vs. Scratch' Mission Objectives (9)
Earn Bronze Battle Medals by getting eliminations in a match (3)
Ring the doorbell of a house with an opponent inside in different matches (3)
Dance at Rainbow Rentals, Beach Bus, and Lake Canoe (1)
Deal damage with a Harpoon Gun to opponents (75)
Gain Health or Shields in a bush (1)
Travel 100 meters while dancing (100)
Click here for a Cheat Sheet to help you complete these Overtime Challenges.
How to Get the Gold 8-Ball Vs. Scratch Skin Style Variant
In order to unlock the Gold Skin Style Variant for the 8-Ball Skin, you will need to first complete nine of the 8-Ball Vs. Scratch Challenges. Here is what the Gold Skin variant looks like: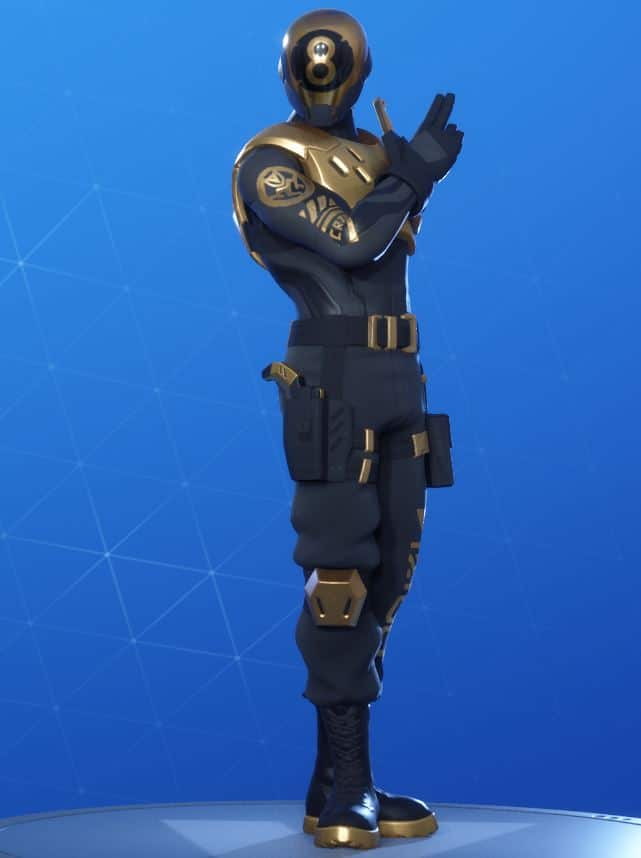 Completing each of the challenges for the Mission will award you with 52,000 XP, which will help you to progress in this seasons Battle Pass.